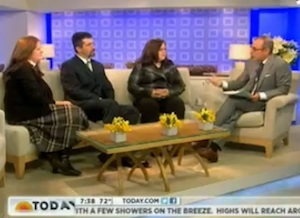 With no other ills in our world, NBC's TODAY dedicated 12 minutes of its running time to airing what is perhaps one of the most earnest interviews of our time with Tommy Jordan, the dad from Albemarle, North Carolina who shot his daughter's laptop computer nine times and posted the video of the shootout on YouTube. The video came, of course, after she posted on Facebook complaining about her chores.
Host Matt Lauer sat down exclusively with Jordan and the rest of the family to figure out what went on in that video that captured so many people's imaginations.
RELATED: Utah Man Shoots At Mouse, Misses, Hits Roommate, Then Gets Another Roommate Arrested For Rape
"You couldn't have gone in the living room and had the same discussion with her without the camera, shot the laptop in the backyard but done it privately and kept it a family matter?" Lauer pressed.
"Possibly, in hindsight, considering all the CPS (Child Protective Services) and DSS (Department of Social Services) involvement and that sort of stuff. Maybe that was the right thing to do. However I can't change that. I did what i did, I stood behind it and I still do."
"I hope Tommy takes this is the right way," Lauer continued, addressing Jordan's wife. "I think there may be some — and according to our polling, it would be a minorit — but there might be some people looking at the video saying, here's a yahoo with more ammunition than brains. I think people will be surprised to know that in my experience with your husband he is a very thoughtful, very caring, very intelligent, very articulate guy. What's your experience in all of this been?"
"I totally agree," she replied. "People may look at the video that don't know him or us and think we're just completely uneducated country people. That's not the case. He's very intelligent, very thoughtful. He rarely does anything without thinking it through or even consulting me on a lot of occasions. This wasn't any different."
Watch the interview below, which must be seen to be believed, courtesy of NBC:
Have a tip we should know? tips@mediaite.com