The Trailer For HBO's Game Change Depicts Sarah Palin 'On The Verge Of A Complete Mental Breakdown'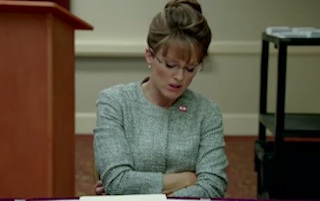 Last month, when HBO debuted the teaser trailer for their adaptation of John Heilemann and Mark Halperin's best seller, Game Change, it became clear why they chose to cut out about two thirds of the book and only focus on the McCain/Palin half of the campaign. Clearly they decided that they'd rather do a Frankenstein-esque story about McCain's staffers coming to regret the choice they made in bringing a little-known governor into the limelight instead of the epic battle of wills that made up the book's Obama vs. Clinton sections. The full trailer, which aired on Sunday, continues the same theme and gives us even more famous actors getting their turn to stare in horror at the "monster" they've created.
It also gives us more chance to see Julianne Moore's take on Sarah Palin. I compared the teaser's approach to the character to that of Jaws' treatment of the shark, but here we really get to see the performance. We get to see her trying on clothes, we get to see her infamous "I can see Russia" moment, and you even see her have what one character calls "a complete mental meltdown." We're assuming he doesn't mean the fun kind like Kristen Bell. And, when the trailer ended with Palin whispering through gritted teeth, "We have to win this, I really don't want to go back to Alaska," I had to agree with I'm With Kanye in suggesting that Moore can clear off the Emmy space on her mantle now.
Seriously, for anyone who hates Palin, it's clear that HBO has made the perfect piece of horror/comedy/porn for you.
Watch the trailer from HBO below:
Have a tip we should know? tips@mediaite.com