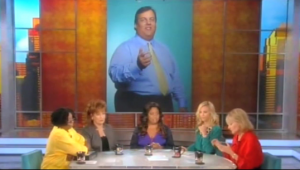 The View discussed New Jersey Governor Chris Christie's potential run for the White House and the touchy subject of Christie's weight took center stage. Whoopi Goldberg asked the audience if they could see him as president. The crowd unanimously responded no. When asked why, the Governor's "heftiness" was cited as a chief reason.
Panelist Elisabeth Hasslebeck argued that Christie offered something that Rick Perry and Michele Bachmann didn't. "Krispy Kremes!" Joy Behar shouted out.
Hasslebeck scolded Behar for her fat joke. "Imagine this conversation about an overweight female candidate! We would be beside ourselves!"
Sherri Shepherd disagreed, noting that the panel discussed various candidate liabilities in the past including John McCain's age and President Obama's smoking habit.
"The last fat president that we had was President Taft…years and years ago, I should remember, I dated him! They had to make a special bathtub for him because he was too fat to get in it," exclaimed Behar. "I don't think the country's ready for a fat president again."
Walters interjected, "I think that's ridiculous! It has nothing to do with his brain, it has nothing to do with his experience…" "His lifespan!" Shepherd interrupted.
Walters shrugged off the criticism over Christie's girth and made the bold prediction that he would be the Republican's nominee.
For a program that has featured many segments featuring body image and self-esteem, it was surprising how judgmental the panelists were of Christie. Jezebel's Dodai Stewart also was disgusted by the segment, "Ugh, really? One word, guys: Oprah."
Watch the discussion below, via ABC:

Have a tip we should know? tips@mediaite.com