The View: Did Whitney Houston's Untimely Death Save Her From A Legacy As A 'Sad Has-Been'?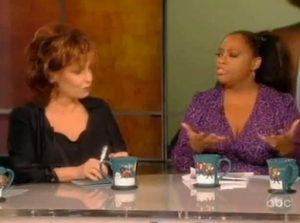 This morning, The View panel discussed a recent Radar Online post claiming that toxicologists have discovered a combination of several prescription sedatives in Whitney Houston's bloodstream at the time of her death, namely Xanax, lorazepam, and valium. This was a preliminary autopsy report, so the record has not been set officially straight, but the panel took the opportunity to question why people find the cause of Houston's death so fascinating. Sherri Shepherd stated the obvious — that Houston's relative youth made her death all the more tragic and compelling, like Marilyn Monroe, James Dean and other stars who died young.
RELATED: The Most Disturbing Moment From Whitney Houston's 2002 Diane Sawyer Interview
Talk also turned to psychologist and frequent television contributor Dr. Judy Kuriansky, who wrote an essay that appeared on Radar Online about the good timing of Whitney Houston's death.
She wrote:
…In death, she was recognized, lauded and idolized once more as a legend. Stars of all kinds paid homage to her brilliance and performers like Jennifer Hudson choked [up] while singing her songs in tribute. None of that would have happened if she had stayed alive and attended the celebrations, as a sad has-been. By dying on that night, she insured being celebrated — on the big stage, by everyone. Certainly no one could be politically incorrect by focusing on her decline, drug-use and career demise at that moment.
Um…sounds about right for a doctor who loves appearing on television! I'm going to go out on a limb and guess that it was that essay that was responsible for Sherri Shepherd's expression of utter disgust for the remainder of the segment. You can see the clip here via ABC:
Have a tip we should know? tips@mediaite.com