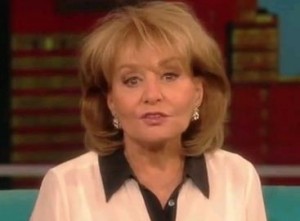 Creator and director of HBO's new show Girls, Lena Dunham, appeared with co-starsAllison Williams and Zosia Mamet to talk about the show's frank depiction of 20-something girls struggling to make it in New York City. "Girls" has been widely praised, from The New Yorker to The Atlantic, but has also weathered heavy criticism about the show's very white depiction of contemporary Brooklyn, and the relatability of the characters. Surely any interview of the cast would involve addressing those issues!
RELATED: The View Ladies Are Grossed Out By Match.com Dating Spreadsheet
Naturally, Barbara Walters wanted to talk about the sex. "I found it sort of shocking, but I also found it sort of depressing," she said, referring to Dunham's character's relationship with a loutish dude. In the first episode, "he does it from… behind," Walters said and Joy Behar interrupted her, yelling "Don't say it!" Is that the way relationships really are for girls in their twenties, Walters wondered?
Dunham's answers all seemed carefully chosen in the wake of growing controversy about the lack of diversity on the show, and she responded that she "wasn't claiming this relationship was an entire generational representation," and Williams chimed in that even if viewers couldn't relate to the characters' exact experiences, the feelings they evoked were universal.
Disappointingly, no one on the panel asked Dunham about any of the criticism the show has received, even though she seemed rather defensive of the show's worldview regardless.
You can see the clip here via ABC:
Have a tip we should know? tips@mediaite.com