The View Slams Donald Trump As Racist; Whoopi: 'I'm Playing The Damn Card Now'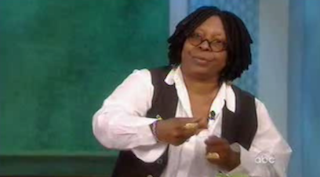 Whoa. In just this five minute clip of The View, there were enough soundbites for about 10 posts. Yes, folks, this is why the media is so in love with the Birther issue. As Whoopi Goldberg, Elisabeth Hasselbeck, Joy Behar, and Sherri Shepherd all railed against the topic, they took Donald Trump and the Birthers to task for a number of things, accusing him of alternately of racism, insulting the President, and hurting the country's reputation.
As always, the race stuff will probably get the most attention. The hosts all seemed to be on the side of Ed Schultz in seeing a racial tinge in Trump's attacks, particularly his references to President Obama's basketball playing as well as his incredulous attitude towards the President's education.
Goldberg summed it up thusly:
"I'm getting tired to trying not to find things slightly racist. It is very difficult, on a daily basis, to see this stuff and not say, you know, this is what it is. I have been raised to think, 'Well, maybe that's not what they mean. Let me figure it out.' But, being black, when you say, 'Y'know, this is racist,' 9,000 people say, 'Oh, you're just playing the race card.' Well, you know, I'm playing the damn card now."
Goldberg also had the best attack on Trump himself later on:
"You know how Donald always says, 'People are laughing at us, thinking we don't have it'? Here's one of the reasons they're laughing at us, Donald. When you show such insane disrespect to the president of your country, other countries think we're idiots."
Check out the clip below:
Have a tip we should know? [email protected]