The View Ladies 'Confused' By Report On 11-Year-Old Mermaid 'Trans-Kid' Who Wants To Date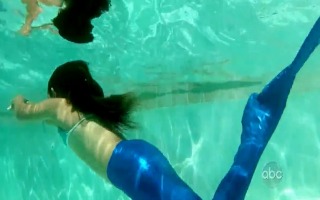 The hosts of ABC's The View were visibly perplexed after Barbara Walters played a portion of her upcoming report on a 11-year-old 'trans-kid' who struggles with her sexuality and copes with it by donning a mermaid outfit. The View hosts struggled with the notion that this child wants to take irreversible hormone blockers and being the process of dating in spite of her age and sexual confusion.

RELATED: The View Ladies Mock Cancer Survivor Lance Armstrong For Having A 'Little Testicle'
Walters played a clip of the young "trans-kid" who she first met when the child was 7-years-old and only beginning to undergo the process of changing from male to female.
Walters showed her swimming with a mermaid fin attached and noted that "many young male-to-female trans-kids are obsessed with mermaids." The child's mother explained this by proffering the theory that the "ambiguous genitalia" associated with mermaids is appealing for "trans-kids."
"She wants to date," Walters said.
"But she still has the accoutrements of a boy, right," inquired Joy Behar.
"She calls it the 'P' word," Behar noted.
"She wants to date boys," Sherri Shepherd asked sheepishly. "She's trying to figure out if she should tell these boys beforehand that she's born a girl. I'm getting – I'm confused."
"By the way, she's on hormone blockers and it's not until she gets to be 18 that she can change – actually have an operation," Walters added.
Behar expressed reservations about the medical side effect that taking hormone blockers before puberty could have on this individual. "And they could make her infertile," Walters agreed.
Watch the clip below via ABC:
> >Follow Noah Rothman (@Noah_C_Rothman) on Twitter
Have a tip we should know? tips@mediaite.com