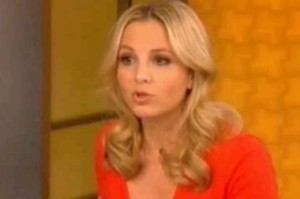 Tennessee is introducing a "Don't Say Gay" bill, which would prohibit schools from discussing homosexuality until kids reach high school. According to one of the supporters of the bill, State Representative John DeBerry, his "basic right as an American is my right to life, my right to liberty and my right to the pursuit of happiness…Within that includes being able to run my home, raise my children as I see fit and to indoctrinate them as I see fit." Supporters of the bill also cited "Modern Family" as a negative influence on children due to its depiction of a homosexual couple. So it was fortuitous that "The View" had Jesse Tyler Ferguson, who plays one half of that gay couple, on the show today. His take on the bill was that even if it passes, kids are probably still going to find out that gay people exist from other sources like, say, real live gay people living in Tennessee!
RELATED: Anti-Gay Senator Kicked Out Of Tennessee Restaurant For Being Anti-Gay
Sherri Shepherd, as you can imagine, had a tiny problem with this. She doesn't want her children learning about sexuality beyond the reproductive basics, because apparently anything beyond that can quickly devolve into teachers telling children that "being gay is a choice." Wait, what? She and Elisabeth Hasselbeck argued that those conversations are supposed to be had between parents and children rather than teachers and children, which is fine, but I'm still stuck on Sherri's apparent belief that were it not for tight restrictions, teachers might be encouraging students to try out homosexuality. Elisabeth also made the salient point that school policies prohibiting any mention of homosexuality have been held connected to higher rates of teen suicide, which the whole panel agreed with — and then Sherri announced that the audience would be going home today with a "Tower Heist" DVD. Coooooool segue!
You can see the clip here via ABC:
Have a tip we should know? tips@mediaite.com