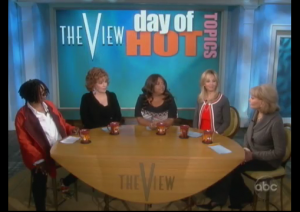 Because of their talk show's taping schedule, the ladies of The View couldn't discuss last week's dramatic, Bill O'Reilly-inspired walkout on their own program until today. (Joy Behar, though, has already given one response to the incident on her HLN show.)
In case anyone needs a recap: During a heated discussion about the "Ground Zero Mosque," O'Reilly stated that "70 percent of Americans" don't want the proposed Park51 complex to be built in lower Manhattan because "Muslims killed us on 9/11."
Then, as Barbara Walters put it on today's broadcast, "all heck broke loose." O'Reilly's remark prompted shouting and provoked Whoopi Goldberg to say "That is such bullsh**!" before she and co-host Joy Behar stalked off the set.
After the clip of the walkout played, the show's audience laughed nervously. Behar opened the discussion by defending her actions: "On this show, we always talk about standing up to bigotry. So I stood up." Her declaration drew applause.
Goldberg, like Behar, stands behind how she reacted to O'Reilly. "I hit my saturation point," she said—not only because of the Fox News host's remarks about Muslims, but also because "when Mr. O'Reilly came out, he started with me as soon as he sat down."
The show's other two hosts—Sherri Shepherd and Elisabeth Hasselbeck, who both sat frozen on the couch last week when their show erupted around them—also spoke up. Shepherd thinks O'Reilly was knowingly trying to drive up ratings by letting his sparring View hosts get out of control; Hasselbeck noted that she, too, thinks conflating terrorists with ordinary Muslims is a dangerous line of thought.
Then it was Walters's turn to speak—and the veteran journalist didn't disappoint. Her response was so well-reasoned and powerful that it deserves to be presented nearly verbatim:
"This is a country that's full of rage. You just used the word 'volatile' yourself. We must be able to have conversations, that means all of us, without fury, without rage, without screaming, without obscenities, without walking off. It's very dramatic. People love train wrecks—people want us to do more of it because it's good for the ratings.

"…We are used to Bill O'Reilly. He loves this! He loves to pull your chain. This is just what he wanted. And I do agree that train wrecks make headlines, and I don't have to tell you the regard that I have for you [to Behar and Goldberg]… Having said that, I think it was the wrong thing to do."
Listening to Walters makes us feel a little ashamed for spilling so much ink on the walkout. Sure, it's fun to watch people on TV yell at one another every now and then—but what happens when the media devolves to a point where it's showing nothing but people yelling?
Video of The View responding to the incident is below.
Have a tip we should know? tips@mediaite.com