The View Stunned Nicolle Wallace Doesn't Follow Kim Kardashian, Real Housewives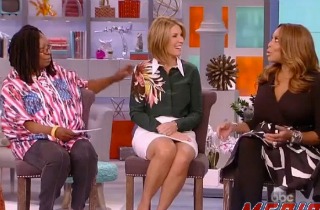 The hosts and audience at ABC's The View on Friday could hardly contain themselves when co-host Nicolle Wallace revealed she knows almost nothing about the stuff E! viewers and Us magazine readers care about.
After guest Wendy Williams of The Wendy Williams Show joined the co-hosts, Wallace told her she's not really abreast on current events in pop culture.
"I didn't even know [the now-divorced Kim Kardashian and Kris Humphries] were married before until I saw you eat crow," Wallace said, referring to a stunt Williams recently did on her show.
"Are you serious?" asked Williams.
"I swear to god," said Wallace. "I'm a political nerd."
"Do you know that Joe and Teresa– do you know about the jail time?" I asked Williams. Joe and Teresa Giudice of The Real Housewives of New Jersey were sentenced to prison on Thursday.
"Who are they? What are we talking about?" replied Wallace to both bemused and awkward laughter from the audience.
"Nicolle, do you know that Wiz and Amber are getting a divorce," said Williams, now reaching a point to where even I don't know how the hell she spends so much time reading up on this shit.
Wallace was clearly getting nervous. "You're freaking me out. I'm sweating through my shirt," she said while rubbing her right armpit. "What are you talking about? Can I have a cheat sheet?"
Wallace and Williams agreed then to share knowledge later about their respective fields of expertise.
Watch via ABC:
[Photo via ABC/screen grab]
— —
>> Follow Eddie Scarry (@eScarry) on Twitter
Have a tip we should know? tips@mediaite.com