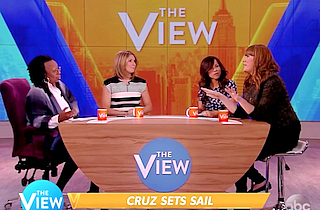 On Monday afternoon The View considered the fact that Senator and now-presidential candidate Ted Cruz (R-TX) was born in Canada, which a few troublemakers claim makes him ineligible for the presidency and for which others argue he should be tarred and feathered in retribution for the Birther movement that dogged President Barack Obama.
"I'm a Ted Cruz birther," Michelle Collins announced. "I want to see the birth certificate."
Cruz was born in Canada to an American mother, making him a naturalized American citizen. He released his birth certificate in 2013, and has since renounced his Canadian citizenship.
Goldberg saw it more as just-desserts for years of questioning Obama's citizenship. (Cruz's father wants to send Obama "back to Kenya.")
"[Cruz] is one of the people that said, well, the president, huh, you know, I want to see your birth certificate," Goldberg said. "And you're a mixed gentleman, right? You are mixed. I want to know, are you talking for the Cuban side or the white side? What are you talking for? See, now, when we turn it around, it's not very nice."
"Luckily we have better stuff to concentrate on than where you were born, Ted," she continued. "But do know that we are aware of some of the things you've said."
Nicolle Wallace said that Cruz's birthplace was the least of his problems, to which Rosie Perez rebutted that the Obama Birthers had turned it into a big deal.
Watch the clip below, via ABC:
[h/t Newsbusters]
[Image via screengrab]
——
>> Follow Evan McMurry (@evanmcmurry) on Twitter
Have a tip we should know? tips@mediaite.com