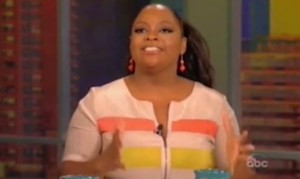 Country musician Miranda Lambert has been taking Chris Brown to task for a little while, and held up a sign at a recent concert (during which she was singing a song about a woman killing her abusive partner) that read "Take Notes, Chris Brown." This led to a discussion of today's episode of The View about the public's perception of Brown, especially in light of his recent return to the Grammy Awards that coincided with his brutal beating of Rihanna two years ago. Sherri Shepherd argued that it is time to give Brown a clean slate.
RELATED: The View's Sherri Shepherd Calls Chris Brown A 'Role Model' For Abuse Victims
She said:
"People have been talking about Chris Brown like he has a history of beating women, and he doesn't. This is a boy – he has apologized so many times, he has done what the court ordered him to do. Do we not believe that somebody can rehabilitate themselves [sic], and that they can go on and create a better life. I mean, do we — do we not believe in second chances?"
Joy Behar's rebuttal was that while Chris Brown might deserve a second chance he certainly shouldn't be rewarded with Grammys and the opportunity to perform at the show, and while Elisabeth Hasselbeck agreed that there should be a certain separation between artists and their work, she also noted that there should be some accountability when artists commit crimes. Whoopi Goldberg wondered, though, if it was appropriate for Miranda Lambert to be the person to call out Chris Brown so vociferously, since she wasn't involved in the original incident and "Rihanna has forgiven him." Was it a publicity stunt, Joy suggested? A genuine statement about violence against women, countered Elisabeth? Sherri seemed exasperated and exclaimed "What more do we want this boy to do?"
Here's where things get weird. Sherri, who's made some divisive comments on the subject before, doesn't think that Chris Brown should be excoriated for his post-Grammy tweets, because there is a long and proud history of other celebrities addressing their "haters." This makes very little sense as a PR strategy, because arguing that plenty of other celebrities have said idiotic things on Twitter is like saying you shouldn't be held responsible for a car accident that you caused because other people get into car accidents all the time. Then Whoopi, before wrapping up the discussion, argued emphatically that no one really knows what happened between Rihanna and Brown. But…I thought we had a pretty good idea.
You can watch the clip below via ABC:
Have a tip we should know? tips@mediaite.com