Bill Carter's The War for Late Night Excerpt Is As Tense And Entertaining As Expected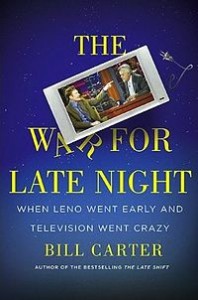 Throughout all of the sturm and drang of the battle between Conan O'Brien, Jay Leno, and NBC at the beginning of this year, many kept repeating the same refrain, "God, Bill Carter's gonna have some great material for his next book." Carter, of course, wrote the seminal book about the first late night wars, The Late Shift, which gave us such wonderful images as Jay Leno hiding in a closet and listening to secret NBC executive meetings. Sure enough, confirmation soon came that Carter would write a sequel, The War for Late Night, and Vanity Fair now has an excerpt online. It's as tense and exciting as expected.
The excerpt follows the time from the moment both hosts were told of the network's plans to move Leno back to 11:35 with the Tonight Show airing a half an hour later all the way through Conan's release of his infamous "People of Earth" letter. It's all riveting stuff with the descriptions of Conan getting the bad news particularly painful.
From Vanity Fair:
"But Conan was seeing no equivalency on the fairness meter. Leno had hosted The Tonight Show for 17 years. He had handed it over and immediately shifted to 10 o'clock, voluntarily. How, Conan asked himself, could any of this be construed as unfair to Jay?

'I know how hard I worked for this,' Conan told the NBC executives. 'It was promised to me. I had a shitty lead-in.' His tone was soft, but the words were clipped. Graboff knew this was Conan in the raw, speaking from the heart.

Conan asked if Lorne knew; how about Jimmy Fallon? Gaspin said he had spoken to both of them already. He then urged Conan to give the idea some time, take it in, think about it.

Conan listened to Gaspin, still with a faraway look in his eye. Finally he did have something he really wanted to say, something that was all but burning a hole in his chest. 'What does Jay have on you?' Conan asked, his voice still low, his tone still even. 'What does this guy have on you people? What the hell is it about Jay?'"
What's interesting, in this excerpt at least, is that Leno doesn't come across that badly. When he gets the news of the switch, his first question is about Conan. And when he realizes how hurt his predecessor is, he wants to call him and only doesn't when the folks at NBC tell him not to.
However, while Leno isn't depicted as the complete villain that much of the media made him out to be (and, of course, the rest of the book could make for a different story), it's still pretty much impossible not to sympathize with Conan. While the end of the section makes it clear that Leno had the brains to know this was all just a business, how can you not side with the guy with heart? A recounting of an old story about Conan refusing NBC's gifts of a sports car in exchange for a microphone from the network's golden days of broadcasting is especially heartbreaking.
Whoever comes out looking the best, there's no doubt that it's a fascinating read. The full book comes out in December and, we can only assume, a film adaptation to follow up the Emmy-nominated adaptation of the first book will soon follow. Let the casting speculation begin.
Have a tip we should know? tips@mediaite.com