The War On Christmas™ Continues: Bill O'Reilly Confronts Rhode Island Governor Over 'Holiday Tree'
War On Christmas™ Continues: O'Reilly Confronts Rhode Island Gov. Over 'Holiday Tree'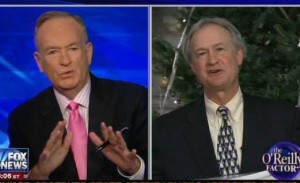 Bill O'Reilly continued his trademark vendetta against the War on Christmas™ tonight, confronting Rhode Island governor Lincoln Chafee over his decision to rename the state Christmas tree as a "holiday tree." 'Tis not the first Christmas season that Chafee has earned O'Reilly's ire, but Chafee this time appeared on The Factor to defend his decision.
RELATED: Bill O'Reilly Confronts Atheist Leader And His 'Merry Band Of Fascists' Over The War On Christmas™
O'Reilly opened his show by responding to the controversy stirred up by his interview last night with atheist David Silverman, in which O'Reilly asserted that Christmas is not a religion, but a philosophy, and is therefore appropriate to celebrate in federal buildings.
At the start of the interview, O'Reilly asked Chafee why he was changing the name of the tree. Chafee explained he was merely following the lead of previous governors in making sure the state is not promoting one particular religion over another. O'Reilly tried to explain to Chafee the origin and traditions of the tree, to which Chafee told O'Reilly he didn't need a "lecture."
Chafee found the controversy analogous to a time when the Lord's prayer was required in certain schools, but after the Supreme Court ruled it unconstitutional and there was some initial controversy, people ended up accepting it. O'Reilly dismissed the comparison between a religious prayer and a "secular symbol" as a disingenuous one.
When Chafee scolded O'Reilly for trying to stir up controversy, O'Reilly shot back by calling Chafee the controversial one for trying to impose his will on the people of his state. Chafee observed that O'Reilly and his Fox News colleagues "are too angry" about Christmas controversies every year. O'Reilly responded, "I want our traditions to be respected!"
Watch the video below, courtesy of Fox News:
—–
Follow Josh Feldman on Twitter: @feldmaniac
Have a tip we should know? tips@mediaite.com
Josh Feldman - Senior Editor