The 'War On Christmas' Messes With The Wrong Man; Meet Joe Hall, Henderson County Commissioner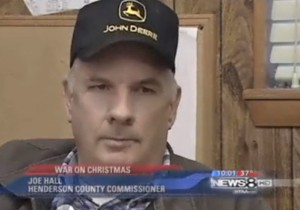 Joe Hall, the Henderson County (Texas) Commissioner, is a self proclaimed country boy serving out his last term as an elected official. He's also probably the last man who wants to be told by a group from a different state to take down a nativity scene.
The fight began when the Freedom From Religion Foundation in Madison, Wisconsin, sent a letter to Henderson County in Athens, Texas, which is 1,044 miles away. They said that a resident contacted them about a nativity display, and, deeming it unconstitutional, asked that it either be removed, or a sign bearing a solstice poem — proclaiming there to be no gods or heaven — be placed nearby. Joe Hall was not appreciative of the correspondence.
"I'm a country boy," Hall told News 8, while staring icily into the camera. "You come to my house looking for a fight, you're gonna get one. And that's from the bottom of my heart."
When asked by News 8's Craig Civale if the county would remove the display, Hall dug in further. "We'll remove it when hell freezes over." He later added, "I ain't gonna back down. I haven't, and I won't."
Billy Hallowell of The Blaze says that area pastors are "assembling a rally in support of the nativity scene." Hall will be there. The nativity, according to officials, has been up for 35 years without incident.
"War on Christmas" stories all too often feature suited up city officials sheepishly talking about having to comply with requests to remove or crowd a city's nativity. Henderson County Commissioner Joe Hall, simply for media purposes alone, is a breath of fresh air. And he cannot be appreciated by just reading his quotes. Please, if you watch nothing else today, watch the video of his interview below, courtesy of News 8 (WFAA).
Have a tip we should know? tips@mediaite.com