The War Room's Michael Shure Dishes On Current TV, Tom Brokaw, And Dan Abrams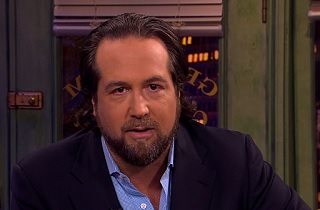 Fans of the longest-running, biggest news show on the internet, The Young Turks, already know "Epic Politics Man" Michael Shure very well, but for the past few months, he has been trying to reach a new group of viewers as host of Current TV's The War Room. Although he's caught in the Romulan Neutral Zone between Current TV and its transition to Al Jazeera America, Shure is proud of the show he's putting on, and took time to chat with me about The War Room, his history with The Young Turks, his bad blood with Tom Brokaw, and odd connection to Mediaite founder Dan Abrams.
Michael Shure already had a good thing going at Current, with a regular spot on the TV version of The Young Turks, and As TYT's "Epic Politics Man," Shure provided the calm, analytical yin to Cenk Uygur's fired up yang. He began to take on regular guest-hosting duties that included all of the network's other shows, making him the Bert Campaneris of Current TV's young history.
Then came a decidedly mixed blessing, as Shure took over hosting The War Room in February, when former Michigan Governor Jennifer Granholm left the show, on the heels of founder Al Gore's sale of the network. Now, he's got his own show, but it's on a network whose identity is rapidly changing, and which may not have a place for him in the medium to long term.
"We cover the whole spectrum of politics," Shure says, "and we decided to take up some issues, like civil rights and guns, and just ha,,er them every day, and we've done smoe great shows, gotten some great guests."
For example, with the anniversaries of so many Civil Rights Era milestones, The War Room has booked guests like Medgar Evers' widow, Myrlie Evers-Williams, Julian Bond, and other civil rights activists and lawyers. "We're really revisiting that period in time, and seeing how it affects the gay rights movement, the immigration debate, and to a lesser extent, guns."
Shure is also particularly proud if the way his show has remained focused on the issue of gun violence when other media outlets seem to have lost interest.
The 47 year-old Shure has been with Cenk Uygur's Young Turks throughout the pioneering internet broadcast's 10-plus year history. He remembers doing the show in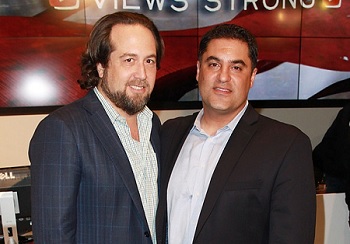 Cenk's living room , and having friends call in because they couldn't get regular callers to the show. While he was helping to start up The Young Turks, Shure also did some radio, filling in on the POTUS network, and running a business on the side to pay the bills. In those early years, "The Young Turks was my happy hobby," he says.
Prior to that, he was an entertainment correspondent for CNN, on a cable/print "synergy" show called Newsstand. From 1997 to 2000, Shure's job was to profile up-and-comers in the entertainment biz, like then-unknown Seth MacFarlane, whom Shure recalls as very humble, and shocked at his early success. "What was cool about MacFarlane is that he animated me, so I have a Family Guy animation of myself," he says.
When I asked if he had any good stories about bad star behavior from his days on the entertainment beat, he revealed that the talents he profiled were, by and large, still grounded enough to be decent. "Because my beat was the up-and-comers, no  one was a real asshole to me, I'm sorry to say" Shure recalls.
He did, however, bear a grudge from his days as an NBC page. "The celebrity who was an asshole to me was Tom Brokaw, when I was an NBC page," he says. "Brokaw seemed to really be annoyed by the pages, and I had a run-in with him, a few times."
On his last day as an NBC page, Shure went around to all of the on-air talent collecting video farewells. "From Deborah Norville to Al Roker, to Bob Costas, the whole gamurt of people who were working in the building at the time," he says, "but Tom Brokaw actually said no, he doesn't do silly things."
He also remembers Brokaw trying to dress him down while the two waited for an elevator at 30 Rock. "He started to lay into me because there were no elevators, because the pages use all the elevators. I sort of challenged him on it, because we needed them to do the tours. 'Don't give me that you have to do the tours, there are people in this building who have to go to work, not kids at summer camp  like you,'" he remembers Brokaw saying. "That was my run-in with Tom Brokaw, and I've held a grudge ever since."
(For the record,  my own experiences with Tom Brokaw, as a much greener colleague rather than a page, have been extraordinarily gracious. Also, I promised Shure I'd share my own [not for publication] celebrity asshole story with him, and I did. You'll have to have a drink with one of us if you want to hear it.)
Going back even farther than that, the Manhattan native has an odd connection to freshly-minted Nightline anchor and Mediaite founder Dan Abrams. "I went to summer camp with Dan Abrams," Shure reveals to a shocked me.
"What was he like?" I asked. "Was he a cool kid, did he get wedgies?"
"Yeah, he got wedgies like everybody else," Shure replies. "At that time, Dan was the first vegetarian I'd ever met, and at that time, if there was a kid who was a vegetarian, you stared at him like he had four heads. It was a different time."
Shure also remembers that he and Dan got candy from home the same day, and planned to go into the candy business, but he doesn't recall if it ever panned out.
"He was a great tennis player, too," Shure recalls of his comrade at Bridgton, Maine's Camp Wildwood, where campers would spend stretches of eight weeks in the summer. "Dan was a fiery tennis player, I remember kids were emulating John McEnroe, or maybe it was too early for that, maybe Jimmy Connors, and Dan was really fiery on the tennis court."
Dan, of course, went on to make a name for himself on a different kind of court, and the sweetest thing he sells now are the bon mots of people like me.
The future is uncertain at Current, as the transition to Al Jazeera America ramps up. Michael says he gets the sense that the network may keep some of the same personnel, but "they don't seem to want to do opinion programming, they want to do  more expository programming," and so he thinks the shows will either be scrapped in favor of new ones, or significantly rebranded.
Despite the uncertainty, Shure is living in the moment. "I'm really proud of the show we're putting on, and of the guests we're booking," he says, " and that we are covering the issues that liberals and progressives really want to see covered. I don't think anyone is doing guns better, we are covering guns every day, we've had people from the Brady Center on, people from the Hill, gun victims."
"We're not letting it die when Congress lets it die," he says. "What I like is that we just keep the drumbeat going."
Shure says he'd still like to get a shot at interviewing a few hard-to-get guests. "Senator Harry Reid," he says, for example. "I would love to interview him about the filibuster, to know if having a legacy of undoing the filibuster is something he could be comfortable with."
"I'd also love to interview Keith Olbermann," he adds, "and I'd also love to interview one of the former presidential kids, the Bush twins, or Chelsea Clinton, or Amy Carter, about what life in the White House is like, what it's like to be the First Kid."
Whatever happens at Current/Al Jazeera America, Cenk Uygur has made clear that there will always be The Young Turks, and the expanding TYT Network, and Shure says he will always try to keep that association strong. "Cenk is one of my closest friends," he says. "I always want to be involved with The Young Turks."
For now, though, he will continue to put on a War Room that he can be proud of, and which you can check out weeknights at 6pm EST. The show is broadcast from San Francisco, and those who dipped in to Jennifer Granholm's tenure as host will find Shure a more relaxed screen presence, a vibe that seems to have carried over from those salad days in Cenk's basement.  It's a vibe he hopes to continue. "I'm the happy warrior," Shure says. "Cenk's the angry warrior, and I'm the happy warrior."
Have a tip we should know? tips@mediaite.com