'The Website Works': Zerlina Maxwell and Rich Lowry Blow Up Over Obamacare Failures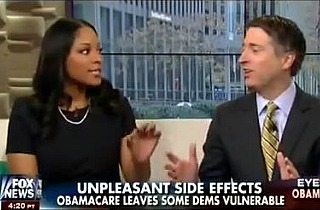 During a recent Fox & Friends, The Grio columnist Zerlina Maxwell and National Review editor Rich Lowry blew up during a debate over how serious both the cosmetic and structural issues plaguing the Affordable Care Act's roll-out were. Lowry and Maxwell battled over whether the structure of the ACA was simply unsound and could not survive.

"A year from now, nobody's going to be thinking about a website," Maxwell said. "When Americans can finally go to the doctor on January 1st for the first time, having that security that, you know, the bill that comes won't force them into bankruptcy, nobody's going to be talking about the website and the glitches."
"This law was sold on a trinity of lies," Lowry countered. He said that rates for coverage are increasing, plans are being cancelled, and many are losing their doctors – all eventualities Obama promised would not happen.
"He's paying the price for those lies and Democrats are now too," Lowry added, noting that the Democratic class of senators up for reelection in 2014 may have to run away from a law they all supported.
RELATED: 'Content of Their Character': Obama Under Fire After Advisor Reveals His Favorite Bloggers Are All White
"It's not in the law," Maxwell insisted of the waves of policy cancellations. "The insurance companies have always been dropping people."
"Just because it's happening now that the law is in effect does not mean that it's because of Obamacare," she continued. "That's correlation, not causation."
"It is causation," Lowry added. "It is causation…"
"That's not true," Maxwell interrupted. "I've been on the exchanges. I'm currently uninsured, been on the exchanges."
She repeatedly insisted "that's not true" over Lowry as he explained that "exchanges do not work" until he clarified that he was speaking of the ACA conceptually and not specifically about the HealthCare.Gov website.
"What is very likely to happen is you're only going to get older and sicker people on the exchanges," he continued.
"Not true," Maxwell interjected.
"Then the premiums have to spike and then they don't work," Lowry continued. "That's basic math and basic insurance."
Maxwell insisted that women in particular will benefit from this law and there is a "gendered" assumption that younger uninsured people will not seek to purchase health insurance on the exchanges.
"Young people includes young guys and young gals," Lowry declared. "You have to force them on the exchanges and charge them more."
"That's not true," Maxwell added.
"The website works," she later insisted. "It works fine."
Watch the exchange below via Fox News Channel:
h/t Zerlina Maxwell
[Photo via screen grab ]
— —
> >Follow Noah Rothman (@NoahCRothman) on Twitter
Have a tip we should know? [email protected]