The Weekly Standard's Stephen F. Hayes On Benghazi Bombshell: White House's Position Is 'Incoherent'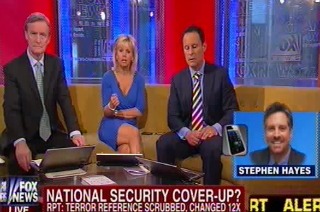 The Weekly Standard reporter Stephen F. Hayes joined the hosts of Fox & Friends on Friday to discuss an explosive report in ABC News which shows how the original intelligence report on the Benghazi attack was altered to remove references to Islamic terrorism. Hayes, whose reporting served as the foundation for ABC News' exclusive, said that the decision to scrub intelligence reports on Benghazi of references to Islamic militants came from policy makers in the White House, the State Department, and the National Security council. "This is going to get bigger before it gets smaller," Hayes said.

RELATED: ABC News Reports Benghazi Talking Points Were Revised 12 Times, Terror Reference Was Omitted
Hayes told the Fox hosts that ABC's Jonathan Karl reported that the Benghazi talking points were edited as a result of requests made by policy makers and not intelligence officials.
"This was driven by folks in the White House and in the State Department and was not, as [White House Press Sec.] Jay Carney and others have contended, something that was driven primarily by the intelligence community," Hayes said.
"The wholesale rewrite that we saw on the morning of Saturday, September 15 – the day before [U.N. Amb.] Susan Rice made all of her appearances – those suggestions came out of a deputy's committee meeting of inter-level policy makers from National Security Council, White House, State Department and elsewhere," Hayes said.
He said it was clear that these changes were made to advance the goals of policy makers, and the White House's line on the Benghazi talking points is "incoherent."
"Why would the intelligence community redraft talking points that they'd already finalized?" Hayes asked.
Gretchen Carlson asked why former CIA Director David Petraeus would cooperate with the White House's desire to redraft the Benghazi talking points. Hayes said that The Weekly Standard has emails suggesting that Patraeus was frustrated by the changes to the talking points and expressed that frustration in communications with his subordinates.
Carlson said that Patraeus testified before Congress that a YouTube video was relevant to their thinking. Hayes replied that the CIA did, "in defense of the White House," make reference to the video, but never linked it to the Benghazi attack – only to demonstrations elsewhere in the region.
Asked if this ABC News report amounts to a "smoking gun," Hayes said it was not. He said members of Congress are likely to continue to investigate the Benghazi scandal.
Watch the clip below via Fox News Channel:
> >Follow Noah Rothman (@NoahCRothman) on Twitter
Have a tip we should know? tips@mediaite.com