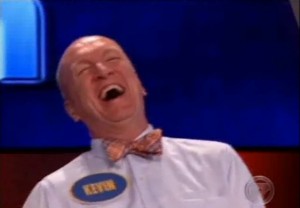 The producers and writers of Family Feud likely had some kind of idea what they were in store for when they whipped up the category, "Name A Part Of Your Body That's In Your Pants." And the first two answers — "butt" and "penis" — got the laughs they had hoped for from the crowd (They also strangely appeared on the board as "booty" and "wang"/"va-jay-jay" — with "va-jay-jay" being really obscure slang for a woman's private parts).
Things took a turn for the bizarre, however, when the McGlynn family started introducing themselves. Host Steve Harvey asked Teena McGlynn what she does for a living. "I'm a nursing student," she replied. "And also, on the side, I like to think of myself as a local celebrity. More specifically, I think I'm Britney Spears."
A befuddled Harvey seemed to be wondering if Teena really thought she was Spears, or if she just acted like her, and asked Teena to follow up, which yielded an even weirder answer. "I know everyone's looking at me, 'She went a little crazy.' You need to stay with it. I was with her from the beginning and I'm not moving." The crowd the began clapping, and a confused Harvey admitted, "I don't know what y'all clapping for…"
As he made his way down the McGlynn family line, and they racked up the strikes, he met Kevin, a tall bald man wearing a bow-tie, who said he was a singer and actor. "None of this is making sense to me," Harvey said. He asked Kevin to name his favorite role.
"Jesus, in Jesus Christ Superstar." This sent Harvey over the edge. "Oh you just went right there. Let's just go right to the top!"
Eventually, the McGlynns struck out, giving the Hackney family a chance to steal. And the best answer they could come up with?
"The only thing we could think of was hair," Sean Hackney explained. "There's nothing left. I checked, Steve. In the huddle."
Did the Hackneys steal the board with 'hair'? Enjoy the video of the weirdest six minutes you may ever see on the show below, courtesy of Family Feud, and find out:
Have a tip we should know? tips@mediaite.com