The Worst Idea In The History Of Cable News: An Anderson Cooper-Kathy Griffin Series On CNN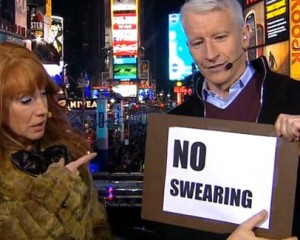 In life, there are a handful of moments when we remember exactly where we were when hearing the news…
When the Challenger blew up, I was in my 7th Grade English class (lest anyone believe this reveals my age today, it should be noted I was like the Doogie Howser of Wayne, New Jersey…placed in classes with those far older).
When the Devils won their first Stanley Cup, I was riding down to Long Beach Island on the Garden State Parkway, listening on the radio after attending my aunt's wedding.
When Bin Laden was killed, I was in bed sleeping with my Blackberry. Rolled over, saw the update in a mass email, smiled, rolled back over, and went back to sleep.
So it's safe to say that I remember where I was ten minutes ago at 8:10 PM EST when I heard the apocalyptic (unconfirmed) report that CNN, C-N-N, actually filmed a pilot today starring Anderson Cooper and Kathy Griffin at Time Warner Studios in New York, according to Deadline.com.
My reaction caused paint chips to fall off my ceiling:
"NOOOOOOOOOO!!!!!!!!!!!!!!"
It's one thing to put the Cooper and Griffin together on New Year's Eve: Most folks watching that night are already overserved, likely older (See: Not out, but struggling to stay awake until midnight and watching a cable news network's coverage of the ball dropping in Times Square in the process). Some tune to CNN because somewhere in the back of their brain, they recall reading about Griffin doing something provocative, something wild in the past, like dropping a completely-planned F-bomb or performing an oral rendition on her openly gay co-host (not that there's anything wrong with that). So they tune in to witness the now-contrived bit, perhaps for no other reason but lack of a better idea.
The next day, the tabloids are filled with news of Kathy's latest stunt. FOX News is horrified on behalf of its viewers (who, you know…likely weren't watching in the first place), so they replay it again, eviscerating the usually-buttoned-up CNN in the process.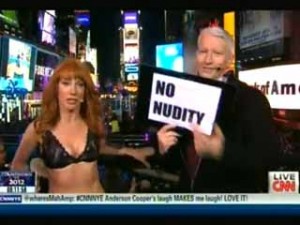 CNN really doesn't have to do this, particularly with Cooper. Take last Sunday night: Cooper did a riveting, utterly fascinating 60 Minutes package on killer crocs by actually swimming with them. These crocs kill an average of 200 people a year, and Anderson revealed after there was no "Plan B" if one of them actually attacked him. The piece has since been the toast of media critics and social media. It was the type of stuff you could only wish to see on CNN more.
Meanwhile, Griffin, 52, is every bit the D-list (pun intended), attention-seeking, magnet for vitriol you hear about. Yes, she has won two Emmys for best reality program over the past decade, but beating out Snooki and JWoww or Sarah Palin's Alaska does not exactly make Griffin a hot commodity.
Having the comedienne on once a year is one thing. Having her on a regular basis with Cooper—who has already failed doing the light stuff during his recently-cancelled syndicated talk-show—is quite another. Ultimately it could be an exercise that would run out of "shocking" content so quickly, become so awkward, so utterly awful (considering the network, the venue), that it could ultimately be an error so egregious that CNN and Jeff Zucker may never recover.
If today's pilot was a trial balloon to see what the reaction would be, let's just say that the overwhelming, landslide, North Korean-election-response is almost 100 percent against a Cooper-Kathy show from ever coming to fruition.
CNN recently hired Zucker, Chris Cuomo and Jake Tapper. That's a good start so far, but as stated in this space, much more serious work has to be done in order to recapture second place again in the cable news race.
And if this idea is anything beyond a ruse, it may eventually result in the end of at least three careers at CNN…
Follow Joe Concha on Twitter @ConchSports
Have a tip we should know? tips@mediaite.com