The Young Turks Guest Catches Breitbart News' Ben Shapiro In 'Friends Of Hamas' Lie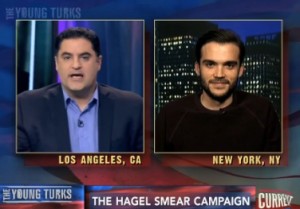 Breitbart News Editor Ben Shapiro spent a good part of his Wednesday being kicked around over his report on imaginary group "Friends of Hamas," and their alleged ties to former Sen. Chuck Hagel and a Daily News reporter's dry sense of humor. Shapiro, for his part, stood by the story, if "Whether the information I was given by the source is correct I am not sure" can be considered "standing by" a story, but as a guest on Wednesday night's edition of The Young Turks pointed out, Shapiro appears to have busted himself in a lie even as he tried to double down on his "reporting."
One of the great mysteries of former Senator Chuck Hagel's (R-NE) contentious pending confirmation as Secretary of Defense has been solved. A "Breitbart News" story published two weeks ago, entitled "Secret Hagel Donor?: White House Spox Ducks Question On 'Friends Of Hamas,'" raised questions about the gullibility of Republicans like former Arkansas Governor Mike Huckabee and current Senator Rand Paul (R-KY), as well as The National Review's Andrew McCarthy, and Fox Business' Lou Dobbs. No one could quite figure out the imaginary group "Friends of Hamas'" origin story, however, until The New York Daily News' Dan Friedman revealed that he accidentally invented them by sarcastically asking a Republican Senate aide if they had anything specific on Hagel's speech-giving past, perhaps ties to the "Junior League of Hezbollah, in France," or "Friends of Hamas?"
Friedman's Senate source admitted sharing the question with others, which is how the "information" appears to have gotten to Shapiro the next day. His Feb. 6 report cited "Senate sources" (an attribution looser than your average Ex-Lax binge) alleging that the reason for Sen. Hagel's refusal to comply with a deep-sea fishing request for financial disclosures "is that one of the names listed is a group purportedly called 'Friends of Hamas.'"
Once called out by Friedman, Shapiro published a response that totally contradicted Friedman's account by not contradicting any of it, and revealed, in the process, that gullible Senate scrubs travel in packs of at least three:
Our Senate source denies that Friedman is the source of this information. "I have received this information from three separate sources, none of whom was Friedman," the source said.
On Wednesday night's The Young Turks, host Cenk Uygur and guest Max Read (awesome pen name, even if it's real) of Gawker criticized the media for not having bothered to debunk the two-week-old story, with the notable exception of Slate's Dave Weigel. Several conservative media and political figures amplified the story, without bothering to even Google "Friends of Hamas," and as Cenk pointed out, will pay a price of exactly nothing for that failure.
Read also caught a glaring inconsistency in Shapiro's defense of his reporting, noting that in his first report, Shapiro is "citing Senate sources, plural sources," whereas in defending that report on Wednesday, "he acknowledges that he only had one source. He's actually lying in his first article."
Well, that all depends on what your definition of "source" is. True, Shapiro only cites a single direct source in that second article, but he does claim that his source has three sources, too, by the transitive properties of that old shampoo commercial, doesn't Shapiro now have, like, a million sources, at least one  of whom is Kevin Bacon?
Here's the clip, from Current TV's The Young Turks:
Follow Tommy Christopher (@TommyXtopher) on Twitter.
Have a tip we should know? tips@mediaite.com