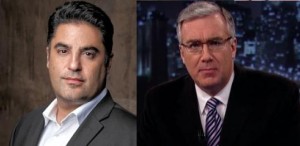 Along with the news that Countdown 2: Electric Boogaloo host Keith Olbermann has been fired from Current TV, almost as suddenly as he was from the last Countdown, comes an interesting bit of news from a source at the network. As of this week, lead-in The Young Turks with Cenk Uygur, which was already feeding coveted younger viewers to Olbermann, began actually beating Countdown in the key 25-54 demographic.
The dilemma that Current TV has faced with Olbermann since these problems began is that they have literally built their entire business plan around him, so it almost didn't matter how big a pain in the ass he became, they seemed to have little choice but to take it. Indeed, throughout the turmoil, Current sources have maintained that the network's respect for his talent has far outweighed his propensity to be difficult. Granted, he was missing a lot of work toward the end there, but the news on the rest of the network's slate had to have played a major part in the decision to let him go.
Aside from The Young Turks' rather stunning demo victory over Countdown (likely a bittersweet success for Cenk Uygur, whose admiration for Olbermann is well-known), the network has also seen huge results from their brand-new Bill Press/Stephanie Miller morning block, while The War Room has been a strong lead-out for Countdown, and guest hosts for Countdown have performed well, too.
Add to that the fact that Olbermann, whose main gripe about the network has been the amount of money and resources available for production, is probably among the network's biggest expenses (how do you take all of someone's money, then complain that their furniture is shitty?), it seems as though he literally became more trouble than he was worth. Current has a mighty struggle ahead of it, but it appears as though they're stronger without the guy than they were with him.
What's next for Olbermann? That's hard to say. While they wouldn't comment on Olbermann's departure, the management at his last gig, MSNBC, are probably chair-dancing themselves into a frenzy tonight, as he's got something of a talent for burning bridges. While there's no denying his talent, it's not what it used to be. It's hard to imagine anyone paying the tab for a headache this big.
Have a tip we should know? tips@mediaite.com