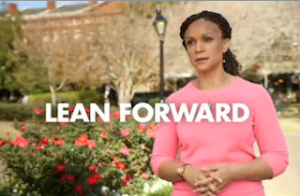 Everything that Melissa Harris-Perry says in her latest "Lean Forward" promo for MSNBC is completely reasonable. And no, that last sentence was not sarcastic.
Since the "controversial" promo first appeared this past weekend, conservatives have been apoplectic over its content. Glenn Beck called the ad "almost a parody." Fox News' Eric Bolling said she "declared war on the American fabric." And, Sarah Palin was so angry she had to invent a completely new word: "unflippingbelievable."
Those three and others across the internet and on TV are utterly outraged that Harris-Perry would suggest that America should take a more "collective" approach to child-rearing. They can't believe she dared to tell them that their children, don't just "belong" to them, but also are part of a larger community. It's those two words–"collective" and "belong"–that are at the root of conservatives' outrage, and also their major misunderstanding.
Starting with "collective," Harris-Perry says "We haven't had a very collective notion of these are our children." As Bob Beckel pointed out on The Five today, that word is often associated with socialism. As in, everyone works together for the collective good and shares the wealth. That's fundamentally not what Harris-Perry is talking about here. As Beckel said, it may not have been the best choice of words for her to use, but she is simply using the word "collective" to describe the way members of a community help each other, while clearly maintaining their own, capitalistic identities.
The issue with the second word, "belong," I believe hinges on two distinct definitions that often get conflated and confused. Someone or something can "belong" to another person in terms of being their property. Or they can "belong" to an organization in terms of being a member. This issue arose during the Democratic National Convention last September when another promotional video featured the phrase "the government is the only thing we all belong to."
Mitt Romney's campaign attempted to turn that innocuous line into the second coming of "you didn't build that" by proudly declaring in response "We don't belong to government, the government belongs to us." Just as Romney seemed to miss the fact that the word "belong" can have two meanings, critics of Harris-Perry do not realize that while a child can be the "property" of their parents, they are a "member" of the community. These are two very different notions that Harris-Perry to tying together using the word "belong" for rhetorical effect.
Obviously, there is something about Harris-Perry and the words that came out of her mouth that have conservatives enraged. But when you break it down, all she was saying is that by attending school every day, and living in the world, children are members of a larger community than just their nuclear families. In no way is she suggesting that the government owns your children and should have the right to take them away or make any other major decisions about how they are raised.
On her MSNBC blog today, Harris-Perry "doubled-down" on her comments, writing, "One thing is for sure: I have no intention of apologizing for saying that our children, all of our children, are part of more than our households, they are part of our communities and deserve to have the care, attention, resources, respect and opportunities of those communities." When she puts it like that, it doesn't sound so crazy, does it?
If you somehow haven't seen the promo yet, you can watch it below, via MSNBC:
—
>> Follow Matt Wilstein (@TheMattWilstein) on Twitter
Have a tip we should know? tips@mediaite.com