There's 'Absolutely Nothing Awkward' About Kimmel Hosting Ex-Girlfriend Sarah Silverman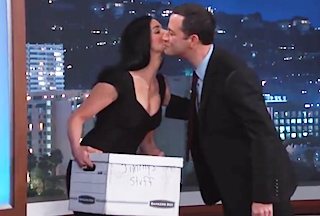 We've come a long way since Sarah Silverman first told Jimmy Kimmel', "I'm fucking Matt Damon." It wasn't the first time Silverman appeared on her ex-boyfriend 's late night show since the pair broke up for good in 2009. But when Silverman appeared on the special Damon-hosted episode in January of this year, Kimmel was a bit tied up. When the comedian appeared on Jimmy Kimmel Live as a guest Thursday night, it was the first time the two had spoken to each other publicly, and it was just the right amount of awkward.
"There's absolutely nothing awkward about having her here tonight," Kimmel told his audience before Silverman strode on stage carrying a box of things he left behind after their break-up.
"It's like I never left, only you're married," Silverman said. She then started unpacking the box, which contained some standard items like socks and a toothbrush along with some comically-large jeans and some "Team Jimmy" shirts that apparently weren't as popular as the "Team Sarah" shirts she had made. When a young boy in a suit ran onstage asking if he was finally going to meet his "daddy" things got a little more tense. "He's unbelievable, it's 'me, me, me' with this kid," she said.
Asked by Kimmel if the whole experience was "uncomfortable" for her, Silverman answered, "Isn't this like weird, but good weird? This is human nature. This is the way life is. People break up, and exes are gonna bump into each other. They're gonna cross paths. They're gonna be on each other's talk shows, you know? It's the cycle of life."
Watch Silverman's appearance in two parts below, via ABC:
[photo via screengrab]
— —
>> Follow Matt Wilstein (@TheMattWilstein) on Twitter
Have a tip we should know? tips@mediaite.com