'They Are Convening a Grand Jury': Trump Supporter Goes Off While Discussing FBI Letter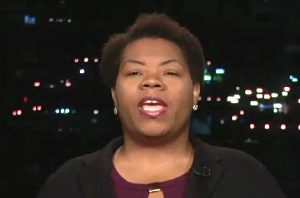 During an appearance on Fox & Friends Weekend this morning, Donald Trump supporter Brunell Donald-Kyei stated that not only did the FBI "reopen" a criminal investigation into Hillary Clinton private server, but that a grand jury was being convened.
Engaged in a panel discussion about the letter sent out by FBI director James Comey Friday that has now been reported to be related to emails found on Anthony Weiner's laptop, Donald-Kyei didn't really agree with the feeling that we don't have much in the way of specifics.
At first, she noted that FBI agents don't just "reopen cases," which led panelist Brian Benjamin to correct her and say that nothing has actually been reopened. Donald-Kyei pushed forward, stating that Clinton is under investigation and mentioning how WikiLeaks emails show corruption.
The Vice-Chair of Trump's National Diversity Coalition then brought up her belief that Clinton aide Huma Abedin held onto 10,000 emails as "life insurance" so as not to be the victim of an "accidental death," pushing a conspiracy theory that Abedin would be a victim of the Clintons otherwise.
After a bit more back-and-forth with Benjamin where she said that Clinton and President Obama are the ones trying to divide this nation by pitting members of different races against each other, she then made her claim that a grand jury had already been convened.
"Believe me, believe me, they are convening a grand jury," Donald-Kyei exclaimed. "Trust me!"
Watch the clip above, via Fox News.
[image via screengrab]
–
Follow Justin Baragona on Twitter: @justinbaragona
Have a tip we should know? tips@mediaite.com