'Things…Went Black': Man Who Recorded Texas Explosion Video Describes 'Horrific' Scene On Today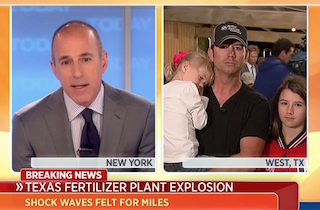 Unreal footage capturing the massive explosion at a fertilizer plant in West, Texas is making the rounds this morning, and the man who recorded that video, Derrick Hurt, spoke to Matt Lauer on Today about the experience. Hurt was joined by his two daughters, one of whose frightened screams can be heard in the video, and described the "horrific" scene.
In the video, Hurt's daughter Chloe can be heard screaming that she can't hear, but Hurt told Lauer that they now have their full hearing back. When they initially saw the flames, he said they thought they were coming from the high school.
"We drove over to check it out and saw it was the fertilizer plant burning," he explained. "And we were going to shoot a little video of it and get out of there, and we just didn't make it out in time."
Asked how close they were to the building, Hurt estimated about 150 to 300 yards. "I understand you ended up kind of on top of chloe in the car," Lauer further remarked.
"I'm pretty sure it lifted the truck off the ground," Hurt said. "It blew me over on top of her, and it all happened so quick that things kind of went black for a moment."
He also noted that did know some of the casualties, and described what he saw at the time of the explosion: "It was a pretty horrific scene some of the injuries we saw. There were probably double digit people standing in front of me videoing. They were closer than I was. And after the blast, they were nowhere to be seen."
The clip of the Today interview is below, followed by the video Hurt shot of the explosion:

Have a tip we should know? tips@mediaite.com