Things Get A Little Weird On Morning Joe When Donny Deutsch Gives Mika A Pair Of Shoes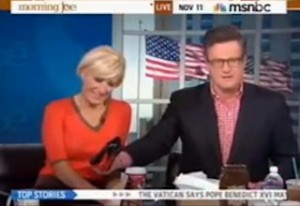 Donny Deutsch stopped by Morning Joe on Friday and continued a fun tradition of his by giving Mika Brzezinski shoes whenever he offends her.
This morning, however, things got a little weird and awkward. It started when Deutsch popped the box out onto the desk and began rubbing the top. Scarborough prodded him to just get on with the presentation:
"Instead of rubbing the box, do you want to open it up?"
As he handed them over, Deutsch said that, "last time we learned I hugged you and you got horribly uncomfortable." Someone added that it was "more than a hug."
"That sort of behavior would have gotten you in trouble had you been running the restaurant association," Scarborough joked.
As the box was opened to reveal the heels, Scarborough gawked over them ("All is forgiven, Donny!") and Brzezinski sat in a state somewhere between catatonic and orgasmic. Then things got strange.
"And of course the reason Donny's actually doing that is Veteran's Day," Scarborough noted. "A lot ot be grateful for." A confused Brzezinski sat up with an incredulous look on her face and asked, "What?!" Scarborough then segued to Mike Barnacle, prompting him to comment on Veteran's Day. As Barnacle started to say some nice thing about our armed forces, Scarborough began talking over him with a pretty inaudible comment that ended in "boot." (Mediaite has reached out to MSNBC for comment on the… comment, and will update when we hear back) [UPDATE: An MSNBC spokesperson says that Scarborough had said "from heels to boots" to help ease the segue]. Barnacle, now also confused, paused, started laughing, and said, "Take it away, Joe!" like he wanted nothing to do with whatever he had said.
Watch the weirdness unfold yourself in the clip below, courtesy of MSNBC:
Have a tip we should know? tips@mediaite.com