Things Get Awkward When Maddow Blurts Out Matthews is 'The Master Interrupter'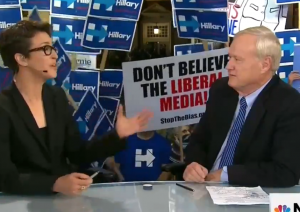 In typical fashion after any of the 2016 debates — or in this case, an intricately phrased faux-debate due to Wasserman-Schultz tyranny — Hardball host Chris Matthews moderated a panel to give insight to tonight's "First in the South Presidential Forum". Despite a nearly two-hour event on policy and agenda talk, arguably the most contentious part of the night appeared on Matthews' segment where he sat down with event moderator Rachel Maddow.
The two MSNBC colleagues could not have styles of delivery that differed any further from one another; Maddow, the consummate professional and fair communicator, Matthews the blowhardian mouth of marbles fueled only by the sound of its own voice. We here at Mediaite even produced a recent video called "Chris Matthews Interrupting Woman," featuring smash cuts of exactly-what-it-sounds-like — all pulled from a single episode.
It's one thing for a sharp-witted media site to recognize and prod a phenomenon like Chris Matthews interrupting people; it's another altogether when your own network's 9 p.m. anchor calls you out on it, as well, on national television.
The exchange below is amazing, and while the world eagerly watched had no idea there was even an event tonight, Maddow perfectly blurted out the one thing that everyone was thinking, and clearly, the one thing most likely to strike a nerve with Matthews himself.
Matthews engages with Maddow on a point she made at the beginning of the event, indicating her intention to not necessarily interrupt the candidates. Maddow shrugs off an apparent compliment, and drops the greatest verbal assault ever launched onto the shores of Matthews:
I probably should've interrupted more than I did. You're the master interrupter.
She immediately tries to swim to safety, but the gathered crowd in Rock Hill, SC immediately revolts in reaction; the audio isn't clear to me if it's a series of boos, jeers, guffaws, or outright celebrations, but in any case, the comment resonated with the crowd undoubtedly conscious of the awful Matthews habit.
And on this night, those four little words accomplished what all the masses of cable news punditry had forever thought impossible: shut Chris Matthews up, if even for a moment.
"When Chris Matthews interrupts people, you know something important is happening!" Maddow offered. She continues to dig out of the situation with a shovel firmly in hand, all the while facing a stone-cold Matthews expression.
Finally Matthews' best attempt at redeeming the pervading awkwardness settles with: "Can we embrace?". 
[image via screengrab]
—
>> Follow J.D. Durkin on Twitter (@MediaiteJD)
Have a tip we should know? tips@mediaite.com