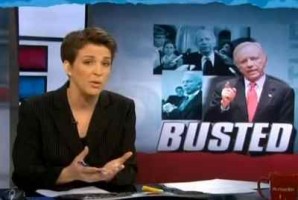 When Joe Lieberman dramatically declared that he would support a GOP filibuster on the healthcare reform bill currently making its rounds in the Senate, he must have known that he'd be subjecting himself to serious criticism from some quarters. Not surprisingly, one of those quarters was MSNBC's prime time lineup. Last night, both Keith Olbermann and Rachel Maddow blasted Lieberman, portraying him as a pawn of the insurance industry and a traitor to his former party.
First up: Keith Olbermann, who accused Lieberman of "thwart[ing] history in the making:"
Two months ago, Lieberman offered different rationales including the public option's supposed unpopularity with the public. Except a new NBC News poll today found that 73% of Americans think that people should have the choice of a public option.  In his own state, 68% favor the public option, including 83% of Democrats, 73% of independents — and all those Republicans who already have one.

But his own state has other constituents: bigger people, if you will. Connecticut is insurance-company Ground Zero. Lieberman has gotten more than a million dollars in the last five years from the health insurance and medical sectors — a million that we know of.
Newsbusters' Mark Finkelstein objected to the "that we know of" formulation, saying that it amounted to a suggestion that Lieberman might be "on the take."
But the broader message of Olbermann's segment on Lieberman was betrayal. He opened up his interview with guest Ron Wyden, a senator from Oregon, with this point-blank question: "How many more times can Senator Lieberman get away with spitting in the party — your party's face before the Democrats say 'no more?'"
Maddow's critique was less bombastic and more intellectual, but she didn't pull any punches, either. Opening up with a segment on insurance stocks rebounding shortly before Lieberman's announcement yesterday afternoon, she, too, as much as implied that Lieberman was beholden to the health insurance industry in his state.
If Olbermann thought Lieberman was thwarting history in the making, Maddow went after him for making the wrong sort of history: paraphrasing her guest Jane Hamden of Firedoglake, she marveled at the fact that "when one party has enough members to overcome the other party's filibuster, a member of the majority has never before crossed party lines to filibuster with the minority."
Here's Olbermann:
And here's Maddow:
Have a tip we should know? tips@mediaite.com