Third Time's A Charm: Harold Camping Says Rapture Definitely Happening On October 21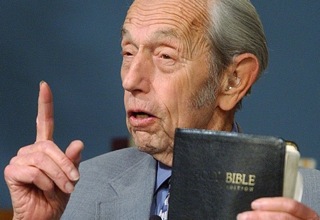 We are currently two days into the coming End of the World, and with no significant increase in death and destruction, professional Rapture prognosticator Harold Camping has some explaining to do. But no worry, he's got a foolproof excuse for why we are all still alive: The actual physical Rapture has been postponed until October 21– the "mystical" one, however, is upon us.
Camping, who told reporters he was "flabbergasted" at still being alive after the 21st, delivered a broadcast today explaining himself. Via ABC News:
In a rambling discourse to reporters outside his Family Radio International office, Camping, an 89-year-old retired civil engineer, indicated he had misread the signs in predicting that the faithful would be lifted up to Heaven Saturday, leaving sinners to suffer through five months of disasters until the Earth was consumed in a fireball on the End of Days.

God did "bring judgment on the world," on Saturday, he said, but there will not be any terrible buildup to the end. When it comes, it will happen quickly, he said.

"We have to be looking at all of this a little bit more spiritual, but it won't be spiritual on Oct. 21," he said. "Because the Bible clearly teaches that then the world is going to be destroyed altogether."
The first time Camping predicted the Apocalypse in 1994, he attributed the mistake to "mathematical error." This time, he refuses to admit the mistake, because the signs are clear that God has already brought judgment. At least party planners now have something to do before Halloween.
ABC News' report on Camping and his followers below:

[h/t Gawker]
Have a tip we should know? tips@mediaite.com