Thirteen NYC Schools Can Now Administer Morning After Pill To Students Without Parental Consent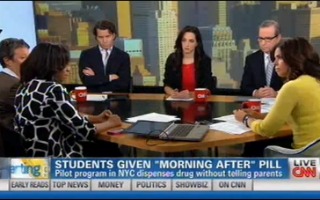 On Monday, CNN's Starting Point welcomed New York City parents' union president Mona Davids and NYC Health Dept. assistant commissioner Deborah Kaplan to the show to discuss "Catch," a controversial pilot program debuting in thirteen New York City schools. As host Soledad O'Brien explained, the program allows schools to disperse the morning-after pill to students without parental consent, although parents can choose to opt out of the program if they want to.
O'Brien said that, as a parent herself, she could see why the program would cause outrage over not requiring parental consent.
Kaplan explained that there have been outreach efforts to educate and notify parents of the program, allowing them several weeks to opt out of it should they choose to. Over the past year, she said, about one to two percent of parents have indeed opted out. She then noted that about 40% of young people in New York City public schools are sexually active, and not all of those students are able or willing to have conversations about sex or reproductive health with their parents.
Davids then explained that the schools participating in the program are "Title I," or schools with students that tend to be from low-income families, adding that she has several concerns about the program. First, there's an historic low in parental involvement at New York City public schools — as such, notifications from the school are likely not going to reach parents who are already not highly involved in their children's schooling or education. As such, this could pose not only an ethical issue, but a medical one as well if school officials aren't aware of possible pre-existing conditions or reactions that students might have to the morning after pill.
Kaplan then testified to the safety of the medication, noting that it is one-time use, and stressed that schools ideally do want parents to become involved in their children's lives and their health.
Later, Davids insisted that government does not have the right to give children a "chemical, hormonal cocktail" such as the morning after pill.
Have a look at the segment, via CNN:
Have a tip we should know? tips@mediaite.com