'This Dooms Obama's Second Term': CNN Panel Battles Over Political Effect of Obamacare Delays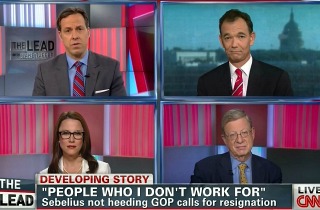 A panel on CNN's The Lead with Jake Tapper tangled on Friday over the political impact of the increasing number of Democrats calling for a delay or extension of the deadlines associated with the Affordable Care Act. One long-time political observer noted that, if more Democrats and policy experts join the clamor for a delay, it "dooms Obama's second term."

Tapper began by author Jeff Greenfield whether Health and Human Services Sec. Kathleen Sebelius will need to resign over the failure of the health insurance exchange site.
"I think we're almost at the point where casual political observers understand the essentially phony nature of so much of what passes for indignation in Washington," Greenfield replied. He said that the last time a Cabinet official was removed for political reasons was when President George W. Bush accepted Defense Sec. Donald Rumsfeld's resignation.
RELATED: Jon Karl Presses Carney to Delay Obamacare Mandate: 'You Can't Really Charge People a Fine…'
"Republicans should want her to stick around," CNN host S.E. Cupp said. "Republicans don't need to make Kathleen Sebelius the enemy. The program is the enemy."
Cupp said that it was not surprising that the White House has not tried to remove Sebelius. "Obama can't replace her," she said. "He can't get anyone else confirmed."
"When S.E. says 'The program is the enemy,' sorry, S.E., that's spoken like a very well-insured person," Washington Post columnist Matt Miller said. The pair battled briefly over whether the ACA was going to accomplish its goal of providing the uninsured with medical coverage.
"Let's talk in six months," Miller countered. "Just chill out." He added that Republicans are at a disadvantage politically without a replacement health coverage plan.
Miller insisted that the program "will" sign up enough healthy, young people to support the uninsured that need health coverage but cannot presently afford it.
Tapper noted that 10 Democrats came out in favor of extending the open enrollment period. "The Obama administration is in a political position where they could not possibly have asked for a delay, even if it was substantively justified, because it would have given the other guy a break," Greenfield observed. "It's very hard for Obama White House to say this is all politics because it's their man saying it."
Greenfield added that, if more Democrats and public policy professionals come out in favor of a delay, "this dooms Obama's second term."
Miller qualified that the circumspect delay these Democratic senators requested would not be the beginning of a "tidal wave" of opposition to the ACA. Under pressure from Tapper, Miller qualified that the law can be amended, but that it is an optimal alternative to the individual market.
Watch the clip below CNN:
[Photo via screen grab ]
— —
> >Follow Noah Rothman (@NoahCRothman) on Twitter
Have a tip we should know? tips@mediaite.com