This Exists: California Teen Caught In Chimney After Trying To Sneak In After Curfew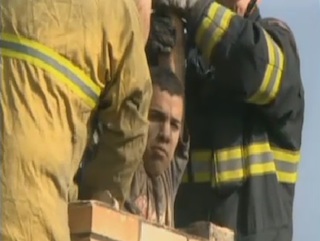 Every year, a number of news outlets like Fox News and…uh…ok, just Fox News…spend a lot of time focusing on the War on Christmas, the apparent movement to remove mentions of the holiday from public view. Many in these news stories talk about the dangerous effect eliminating Christmas will have on our nation and its values. However, no one ever talks about the dangerous effect of keeping it in. Has any of these cultural crusaders thought about the damage done to our children when they have to spend an entire month hearing stories of Santa Claus and his reckless adventures?
With that in mind, I bring you this story of a California teenager who tried to sneak into his house through his chimney and had to get rescued by the local fire department.
From CBS San Francisco:
"Stockton firefighters had to remove part of the chimney at a home Thursday in order to free a teenage boy who was stuck inside.

The rescue happened at 520 Baker Street. According to firefighters, the teen's family first said he became stuck while trying to sneak inside after curfew, but later said the boy was only cleaning the chimney.

The fireplace is in the teen's room."
Reading that, many would think the parents changed their story so as to protect their son (and sorry for writing this up on a national site, guys), but I believe they were merely trying to hide the fact that their child was engaging in a dangerous new teen trend that I just this moment made up. Following planking, owling, and Tebowing, we now have…Clausing; the act of emulating Santa Claus.
You all think your Christmas celebrations are nothing but fun and games (and occasionally a remembrance of that Jesus guy), but how fun will things be when kids across the nation are getting trapped in chimneys? Or throwing out their backs carrying heavy toy sacks? Or getting rabies from strange reindeer?
Clearly the safest solution is stop having our kids celebrate Christmas altogether. Unfortunately, this will be an unpopular choice for most Christians (who, besides, have already learned over the years that abstinence-only education of any kind rarely works). So, I propose an alternative method. This year, to stop your kids from doing any Clausing or hanging out with any Clausing friends, sit them down and have them watch the holiday classic Gremlins. Not only is it a wonderful movie, this scene will hopefully teach them to never Claus again.
Watch the report of the teen's rescue from ABC News below:
Have a tip we should know? tips@mediaite.com