This Exists: Chris Christie And Cory Booker Team Up For Jersey Rivalry Comedy Sketch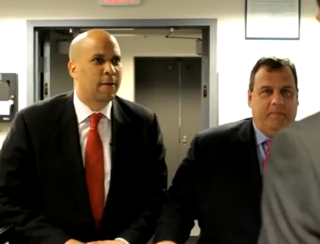 Well… this was unexpected. Gov. Chris Christie, as a poll released this week clearly showed, may be one of the most popular politicians in New Jersey history—challenged in that positive spotlight only be Newark Mayor Cory Booker's exploits saving people from fires by hand and driving around town shoveling snow. In a comedy sketch released by Christie this week, he pokes fun at his frustration with Booker's apparent superhero antics until he finds the one thing Booker can't handle: a call from Mitt Romney.

RELATED: Christie's High Approval Proves He Has Yet To Anger New Jersey, Not That He Has Tamed It
"I don't want another question about flooding, I don't want any more questions about being vice president, and these kids! These kids with all these questions! I can't take it anymore," an exasperated Gov. Christie tells the camera as his aides suggest yet another town hall meeting. He decides to come up with a better idea, and heads to Newark from Trenton.
When he shows up in Newark and asks if he can help with any trapped people, "fires or problems or anything," but is shooed away while the Mayor receives a venerable to-do list of disasters. Among the good deeds on Booker's list today? Putting out a fire, shoveling snow, saving a falling baby and even making a critical guitar donation to a crippled Bruce Springsteen concert. How could Christie compete?
The sketch makes a bizarrely (for New Jersey politics) warm-hearted full circle, where Booker finds himself answering a call from Mitt Romney about being his Vice Presidential choice and has no idea how to respond. "Don't worry, Mayor," Christie interrupts, "I've got this."
It's got high production value, high cuteness value, and sets a brand new precedent in New Jersey politics for the "keep your friends close, your enemies closer principle"—after all, Booker would be a Democratic frontrunner should he choose to run for governor. For anyone who recalls the viciousness of the past gubernatorial campaigns (Corzine's offensive on Christie was almost exclusively comprised of "but he's fat!"), the collaboration will certainly come as a surprise. For the national media, though, the takeaway will be obvious: if Mitt Romney comes knocking on Christie's door, he'll answer with a cool, "I've got this."
The video (via Christie's YouTube account, of course) below:
Have a tip we should know? tips@mediaite.com