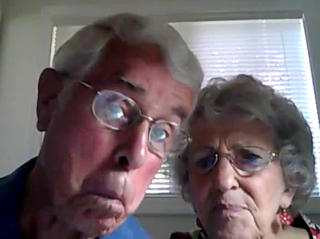 Have you ever come home from a long day of work, or perhaps taken a detour to visit parents or grandparents, and found the two struggling hopelessly in front of a computer for hours, trying to find "the internet"? Now, you can have the experience of being that very same computer that, by virtue of being inanimate, has to sit there and watch these two struggle trying to make you function. This couple got caught on camera as they tried to take a photo of themselves, and the results are endearingly hilarious.
It appears the two were trying to take a picture of themselves and didn't realize the webcam was on and recording them, so our intrepid duo was caught making faces, asking themselves repeatedly why the recording camera "won't take a picture," and wondering how they managed to get the darn thing to work a little while before in the first place.
"Why won't it take a picture?" asks the lady, not realizing it's actually taking a motion picture. "How did you do that?" asks her spouse as she pulls up a photo she seems to have taken before. The answer is predictable: "I don't know!" Eventually, she finds a signal that says she should stop recording at some point. "I don't know what I'm recording! Shucks."
It is clear after a few seconds that neither of the two know that they are being recorded, though the gentleman is certainly enjoying making faces at the camera and being useless to his spouse, who is working hard trying to figure out this computer thingamajig. It is a delightfully fun, heartwarming video with which to end your Saturday media fix. Enjoy!
The couple has garnered something like viral fame thanks to the video, and were on Good Morning America this week to discuss their online escapades. That interview via ABC below:
Have a tip we should know? tips@mediaite.com