This Exists: Glass Staircase In Brand New Court House Proves Problematic For Women In Dresses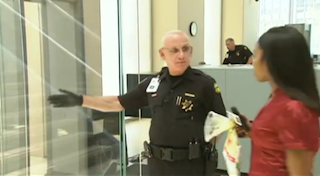 "Men designed it." That's the only reason Judge Julie Lynch, an Ohio Common Pleas Judge can come up with to explain the odd problem with Franklin County's brand new courthouse. The building was built for $105 million and features a gorgeous glass staircase going through the lobby. However, someone forgot to think of what clear steps means for women means for women wearing skirts or dresses.
Oh, well. Hindsight is 20/20. Incidentally, until this problem is fixed, hindsight is what everyone in the lobby is going to get.
I'm sure people will be respectful about this, right? Or not. From Ohio's 10TV:
"Lynch said that many people who visit the courthouse are there because of questionable choices.

'They hope people will be mature? That's not a solution,' Lynch said. 'If we had mature people that didn't violate the law, we wouldn't have this building.'"
Whoops, good point.
As of now, the courthouse has positioned a security guard in front of the stairs to warn any woman attempting to take them.
Clearly this is a horrible problem. And I can't imagine the discomfort that any woman would feel entering that building, let alone one like Lynch who is there every day. Still, I have to admit, the part of 10TV's news report where they show the security guard who's now been forced to stand in front of the stairs and warn any woman trying to take them is one of the funniest things I've ever seen.
See for yourself in the clip below:
(h/t Hot Air and a tipster. Thanks!)
Have a tip we should know? tips@mediaite.com