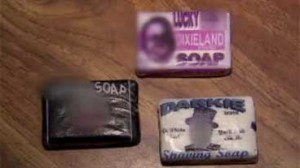 Local news crews spent last week descending upon an Indianapolis-area shopping mall, perhaps to buy some stocking stuffers. What they found instead, however, has sparked a controversy for in the region: a mom-and pop selling "racist soaps with inflammatory labels."
Gary and Kim Dewester, the owners of the general store, are fiecely defesnive of their soap selection, which include non-Proctor & Gamble brands with unfortunate names like Kolored Kids and Darkie Shaving Soap. They said to a local Fox affiliate that the soaps aren't racist but "nostalgic, representing American history."
And they're not fond of their new media attention. When pestered by a local NBC affiliate, Mr. Dewester said,
You guys keep sticking cameras in my face. I have a right to sell it. It's my right to sell it and I understand some may not approve of that but I don't approve of a lot of other things. … I sold out of it all yesterday. People were disappointed they couldn't buy it. I had people from South Bend, Evansville and Peru here and I was more than happy to sell my last nine bars to a black woman from Indianapolis."
The store owners, both of whom are also public defense attorneys, are coming under fire from their town's mayor and Indiana State Senator Luke Kenley, who co-owns the mall that houses the shop.
You can watch the racist soap opera that's gripping Indianapolis in the video below. Buzzfeed is currently split on how the soaps affect American race relations. Also, that's a weird sentence. [Via Buzzfeed]
Have a tip we should know? tips@mediaite.com