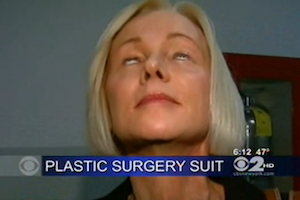 Now here's an unfortunate story. Marilyn Leisz, a New York mother of two had got a cosmetic procedure done on her eyes that resulted in "bumps" on her eyelids. She then had another procedure done to prevent that and that one went wrong and led to her being unable to close her eyes. Leisz is now suing her doctor, stating that he should have told her she wasn't a good candidate for the procedure because she had had too many other procedures done in the first place. In the mean time, she may be able to fix her eye lids. All it will take is another procedure.
Leisz explained to CBS 2 what it's been like with eyes that don't close:
"Leisz said she has to use gel at night and a vaporizer so she doesn't scratch her eyes. She also says she's losing her vision and lives in fear of injuring her eyes.

'All the favorite things I used to, like tennis, racquetball, swimming, horseback riding, bike riding, skeet shooting, gardening, I can't do those things,' Leisz said."
Her doctor is arguing that she knew the risks and that she "she never complained after the 2005 eyelid surgery." 2005?! Yikes. That's a whole lot of blinking to miss out on.
Reading stories like this that makes a person see every "fixable" imperfection on their face seem as just a little bit less problematic.
Check out the clip from CBS 2 below:
(h/t Gawker)
Have a tip we should know? tips@mediaite.com