'This Has Been Going on a Year!': Hannity's Frustration Mounts Over GOP's Split Support For Trump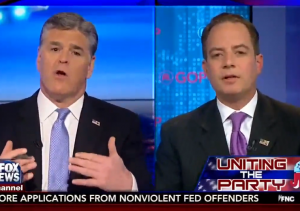 You can safely add Sean Hannity's name to the list of conservative voices who are expressing outrage today over House Speaker Paul Ryan's unwillingness to support the party's presumptive nominee, Donald Trump.
The Fox News host spent much of his Thursday night show criticizing party leaders who are unwilling to coalesce around the real estate titan; during an interview with GOP party chair Reince Priebus, Hannity let his thoughts be known.
"To me it seems selfish," Hannity offered to Priebus. "I'm getting a little ticked off," he continued, with prominent Republican leaders — Mitt Romney and both President Bush's, for example — not falling in line behind the choice of the people.
"I think it's gonna take some time for some people to come to grips and to get to know Donald Trump and to get on board," Priebus clarified. Hannity's frustration only grew at the suggestion that people now find themselves in the position of evaluating party support after a lengthy primary season.
"This has been going on a year! What do they need to know?" Hannity exclaimed. his comments came just hours after Fox Business host Lou Dobbs similarly harangued Ryan's seeming indecision, commenting, "I don't know if we've got the right person in that speaker job!"
"I think for some people an endorsement is a full embrace, for some people it takes time," replied Priebus to Hannity Thursday night.
On Thursday afternoon, House Speaker Ryan told CNN's Jake Tapper, "I'm not quite ready," to support Trump after the sudden news late Tuesday that Texas Senator Ted Cruz suspended his campaign. After months of talk concerning the potential for a contested convention in Cleveland to decide on the nominee, the developments of the past few days have thrown an unexpected curveball in the ambitions of many, especially those of the #NeverTrump movement.
Watch the above exchange from Fox News' Hannity.
—
J.D. Durkin (@jiveDurkey) is an editorial producer and columnist at Mediaite.
[image via screengrab]
Have a tip we should know? tips@mediaite.com