'This Has Been Most Transparent Presidency': Megyn Kelly Panelist Disputes Complaints Over Obama Access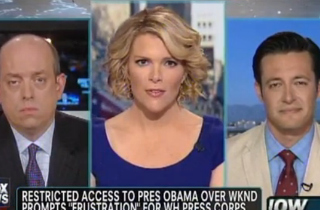 On America Live this afternoon, the political panel debated the White House Press Corps' "extreme frustration" over being barred from President Obama's vacation golf outing with Tiger Woods in Florida this weekend.
Radio host Kevin McCullough hit at the president for not accepting that the press wanting constant access is "part of the job." Understanding that this was a special vacation weekend, and that occasionally officials will want "down time" from a badgering press, McCullough added that the "problem" is that this is not just one event. "You've got, going back to the passage of ObamaCare, all the way through 'Fast and Furious,' all the way through Benghazi, all the way through current problems with the economy, the White House Press Corps has never really been given straight answers," he said.
"I think that when they experience this after a long history of that lack of transparency, frustration overwelcomes them and they bubble up sometimes," McCullough said of the press corps.
Host Megyn Kelly then speculated that perhaps the White House didn't want a photograph of Woods and Obama coming out because of the golfer's recent string of scandals.
"Or maybe the president didn't want Ed Henry shouting out questions about Benghazi while he was on his backswing, or checking out, looking over his shoulder, whether he was replacing his divot or taking a mulligan," former Obama aide Kevin Hannah said.
"This smells like sour grapes," Hannah continued. "This has been the most transparent government and transparent presidencies. I hear Kevin laughing in the background, but any one of your viewers can go to whitehouse.gov and see a list of everybody who has visited the White House and see where every dollar of the of stimulus was spent and usaspending.gov and where your tax dollars are going. So it's important for the government to be the accountable and after the most probably unaccountable presidency in recent history, this president realized he had to restore accountability to the oval office and that's exactly what he's doing."
McCullough hit back that on several key issues, the administration has "not just grudging reluctance to cooperate, you've had all-out obstruction in some places." He cited the days leading up to ObamaCare's passage, in which the president promised to publicize all the debates on C-SPAN but then "his lapdog, Speaker Pelosi, was out there saying, 'We've got to pass it before anyone can read it.' That's how the gravy train started all the way through Benghazi."
After Kelly suggested perhaps the media wants to be around the president for morbid reasons — i.e., in case anything horrible happens to him while on vacation — Hannah responded: "There are private, closed door meetings with fundraisers and there are private dinners with his family that the press isn't in attendance on. Yet, they might be a stone's throw away."
Kelly also noted that a survey found that this administration's agencies have responded to less Freedom of Information Act requests than ever before. Hannah lamented that fact, but refused to blame the president for it, insisting that "the explicit commitment to transparency is going to be a part of the president's legacy for decades in the future."
Watch below, via Fox:
— —
>> Follow Andrew Kirell (@AndrewKirell) on Twitter
Have a tip we should know? tips@mediaite.com