'This is About Life and Death': Trump Supporter, CNN Commentator Fight Over Gun Control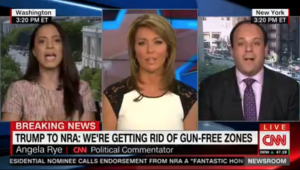 Not long after Donald Trump wrapped up his speech before the National Rifle Association, one of the mogul's supporters and one of his critics locked horns on CNN over the substance and sincerity of his remarks.
Boris Epshteyn fielded initial questions from Brooke Baldwin about Trump's known history of supporting gun control by saying that the NRA endorsement proved he's evolved on issues and is working to unite the party.
Angela Rye responded that Trump was greatly misrepresenting Hillary Clinton's thoughts about gun control and the Second Amendment. She pointed to Trump's reaction to the Sandy Hook shooting as proof that he is disingenuous about his talking points, that he was pandering to the crowd, and that he is promoting a dangerous approach to gun safety.
"This is about life and death at the hands of gun violence!" Rye shouted. "Hillary Clinton has touted the importance of background checks. At one point Donald Trump in his right mind did the same thing. It is time for him to find him, his conscious and be honest about the detrimental impacts of gun violence."
Epshteyn expressed doubt that Rye was a "well-meaning American" for "politicizing" the massacre, which led the both of them to accuse each other of bullying, parsing words and misrepresenting each others' views. Baldwin noted that the public record shows Clinton is interested in maintaining the rights of responsible gun owners, but that didn't stop Rye and Epshteyn from proceeding with their clash.
Watch above, via CNN.
[Image via screengrab]
— —
>> Follow Ken Meyer (@KenMeyer91) on Twitter
Have a tip we should know? tips@mediaite.com