'This Is Bad News': Tucker Carlson, Alan Colmes Spar Over 'Ominous' Decline In Obama's Approval Rating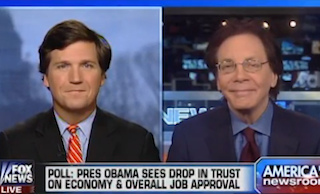 Tucker Carlson and Alan Colmes took to Fox News on Wednesday morning to respond to the new ABC News/Washington Post poll that shows President Obama's approval rating down since December and January. While Colmes insisted it wasn't a peculiar trend, Carlson thought it "ominous."
Obama "overplayed his hand on the sequester," Carlson asserted, and that it's "a cumulative effect." His promises won't come true if he keeps repeating them, he added, that has an effect on poll numbers.
Colmes didn't think the culprit was the sequester, nor did he agree with Carlson's point about underwhelming efforts to boost the economy. "It's typical post-honeymoon period," he argued, pointing back to George W. Bush's numbers. He then offered polling of his own, citing 53 percent who believe the economy is improving and 56 percent who support closing loopholes (among others).
Deeming that point "interesting," host Bill Hemmer pointed to Obama's approval among independents: 50 percent disapprove while 44 percent approve. "It's not common," Carlson argued in response to Colmes' earlier point. "This is bad news."
Obama is focused on 2014, not on the economy, he continued — and these numbers are "ominous." Particularly the "divide between various segments of the population." That's "pretty much the way it's been," Colmes countered.
As Hemmer pointed to the Washington Post's and POLITICO's bleak headlines about Obama's woes, Colmes quipped, "I thought the president had the press in his pocket, what happened?"
Carlson quickly dismissed the idea that the press isn't sympathetic to Obama, moving on to discuss his "bellicose" second-term approach. "He basically drew a line in the sand on issue after issue," he argued, "and I think it's possible he overreached early."
Take a look, via Fox News:

Have a tip we should know? tips@mediaite.com