'This Is Stupid': Roland Martin Defends Principal Suspended for Using the N-Word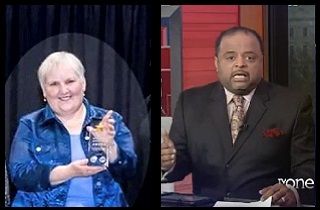 A school principal in Washington State was suspended last week for allegedly using the n-word to explain the epithet to a group of students. Poulsbo Elementary School Principal Claudia Alves was apparently trying to teach the children the difference between the n-word and the word "negro," and on Monday morning's NewsOne Now, host Roland Martin defended her, saying that "This, to me, is stupid."
According to news reports, students at the school were uncomfortable with the use of the word "negro" in a school play about Dr. Martin Luther King, Jr., so Alves allegedly stepped in to describe the difference between "negro" and the "n-word," but used the actual word. She also used the word in a similar context in several followup conversations on the incident, and is now on leave, while the school is reportedly looking for an acting principal. Here's KOMO's report on the incident:
On Monday morning, Roland Martin blasted the suspension, exclaiming "This, to me, is stupid," adding "If you have a teacher, who is trying to teach, and explaining the n-word and 'negro,' and throw in 'colored' and let's say throw in 'African American,' why do you suspend somebody who is trying to teach?"
Yes, if only there were some way to convey the n-word, without actually using the word itself. What's an educator to do?
Lauren Burke of Politic365.com added that "It's just as stupid as the zero tolerance policies that you see in schools, where a kid hugs a kid, and all of a sudden the kid is suspended, it's completely ridiculous."
Former RNC Chariman Michael Steele agreed, saying that "we have so hyperventilated this word, the problem is that any time it is introduced, period, people just, their hair goes up on fire, and in this case, so you're saying when it comes to talking about black folks, and the history of their narrative, and the language that (has) been used, that you cannot teach that now?"
Steele also wondered "How do we educate our own about our history, if we're taking things off the table," and observed that "we don't seem to get hyperventilated with the use of it in comedy sketches, and things like that… but we get crazy when a teacher's giving it historical context. It makes no sense."
Panelist Ray Baker, also of Politic365.com, noted that Attorney General Eric Holder's comments about America's cowardice on race "seems to be unique only to discussing race around African Americans, and that's what's problematic."
Roland also pointed out that "You have never seen a white, Jewish, or Hispanic, or Asian record executive use the First Amendment argument when it comes to the k-word, when it comes to any other racial epithets targeting Hispanics, Asians, Jews, gays and lesbians, but they will all bring up the First Amendment when it comes to rappers who use the n-word."
There's some debate to be had over what the principal's ultimate punishment should be, but in this specific case, the choice between historical context and reasonable discretion is a false one. If the allegations are correct, the educational concepts could easily have been expressed without using the actual n-word, and so could whatever she was trying to convey in the followup conversations. Removing the word from literature like Huckleberry Finn is misguided, and a missed opportunity for a valuable discussion of historical context, but it's hard to make the case that it was absolutely necessary in this context, or in the context of a parent telling you she's not okay with its use.
Here's the clip, from NewsOne Now:
Have a tip we should know? tips@mediaite.com