'This Is Tyrannical': The Five Hosts Defend Soldier Ordered To Stop Reading Sean Hannity, Mark Levin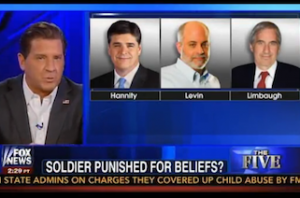 Friday afternoon on Fox News, The Five took on the story of an army sergeant and marching band member whose superior officer apparently told him to stop reading books Sean Hannity, Mark Levin and David Limbaugh while on the bus to concerts. Eric Bolling kicked off the segment by defending Sgt. Nathan Sommers against the "disheartening and dangerous" trend of political correctness in the military.
"This is outrageous," Kimberly Guilfoyle said, before somehow linking the incident to President Obama. "These soldiers and troops are fighting for our freedom every day, and President Obama is stripping them of their freedoms, telling them that they can't read this or they can't look at these materials. This is his administration."
Andrea Tantaros claimed that it was this same trend of political correctness that failed to prevent the Fort Hood shooting, when army psychologists neglected to report Major Nidal Hasan. Sommers "is facing the last form of discrimination," she said, "which is you're a Christian or you're a conservative, and he's being discriminated against."
Bolling asked what Juan Williams thought about the "irony" that the "tyrannical" officer would ban figures like Hannity and Levin who speak about "fighting tyranny."
Williams was the only one willing to defend the superior officer, saying, "if I'm your superior and I'm interested in unit cohesion and you're reading something that is highly politically inflammatory…"
At that point, Williams was cut off by the other hosts who couldn't believe he would use the phrase "highly politically inflammatory" to describe someone like Hannity, whose Fox show on which he has been known to appear.
Finally, Brian Kilmeade imagined what would happen if Sommers have been asked to stop reading the Qu'ran. "The whole military would be asked to disarm!"
Watch video below, via Fox News:
—
>> Follow Matt Wilstein (@TheMattWilstein) on Twitter
Have a tip we should know? tips@mediaite.com