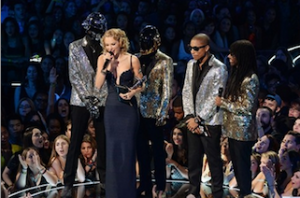 After MTV went to great lengths to make sure Daft Punk did not perform on The Colbert Report earlier this month, you had to think the band's "surprise" appearance on last night's Video Music Awards was going to be epic. Maybe they would put together an even more star-studded version of their hit "Get Lucky" than Colbert was able to pull off? Or something even more brilliant and elaborate that nobody would have ever predicted?
But instead, the audience got a 60 second preview of their (admittedly awesome looking) music video for "Lose Yourself to Dance" followed by a brief appearance by the helmeted duo with Pharrell Williams and Nile Rodgers, who presented the Best Female Video award to Taylor Swift. And that was it.
As Colbert explained in an extensive podcast interview following the Daft Punk debacle, even before MTV stepped in it became increasingly difficult to figure out what the band would do on his show. They had their own set of restrictions, which included not wanting to play on TV or speak. While some may have assumed the former would not be an issue on the VMA's, they were mistaken.
The two band members stood silently as Pharrell did most of the heavy lifting, delivering the award to Swift. She repaid him by coming on stage and saying what a big fan she was of his, while all but ignoring Daft Punk's presence. That's assuming it was them in those helmets, of which there was no concrete evidence.
As the website Consequence of Sound pointed out last night, Colbert himself never used the word "performance" when describing Daft Punk's MTV arrangement. Instead, he ruined the "surprise" by saying, "Apparently, Daft Punk are going to make a surprise appearance on the MTV Video Music Awards." Similarly, MTV President Van Toffler revealed just as much, and no more, in the email Colbert read on air: "Not sure I can help you on this one. (Daft Punk's label, Columbia Records) sold us hard on some clip and live appearance based on them not showing up anywhere else."
Colbert does not return from his late summer vacation until next week, but when he does we can only imagine he'll have something to say about Daft Punk's underwhelming "appearance."
Watch video below, via MTV:
[photo via screengrab]
—
>> Follow Matt Wilstein (@TheMattWilstein) on Twitter
Have a tip we should know? tips@mediaite.com