This Unnerving C-SPAN Call to Dennis Hastert Makes His Indictment Quite Interesting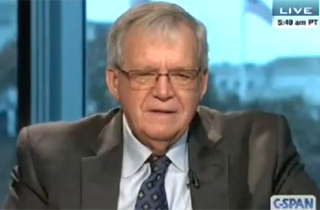 Yesterday's stunning indictment against former House Speaker Dennis Hastert had few official details on the circumstances surrounding it, but enough to infer that it had something to do with his time as a high school wrestling coach. New evidence — as well as a creepy C-SPAN video — hints at something far more salacious, and as much as we hate to admit it, when it comes to prominent political figures, we love salacious.
The former Republican lawmaker was charged yesterday of attempting to structure nearly a million dollars in cash withdrawals to avoid reporting them to the IRS, as well as lying to the FBI when questioned about the nature of the withdrawals. According to the indictment, he had agreed to pay an unknown individual $3.5 million "in order to compensate for and conceal his prior misconduct," and that the person, named as "Individual A," was someone from Yorkville, Il., who'd known Hastert for "most of Individual A's life."
Observers quickly noted that the official indictment went out of its way to identify Hastert's former job as a high school teacher and wrestling coach in Yorkville, where he worked between 1965 to 1981. BuzzFeed spoke to one of Hastert's colleagues, former Yorktown High School teacher Maria Steiner, who observed that Hastert was more focused on his work as a wrestling coach than teaching. "He would show movies in his class while he worked on wrestling stuff," she recalled.
And then this video popped up from Hastert's Nov. 13, 2014 appearance on C-SPAN's Washington Journal, in which a man identifying himself as "Bruce" asked Hastert: "Do you remember me from Yorkville?" He then cackled and hung up, leaving Hastert visibly uncomfortable. (The indictment said that Individual A had started meeting Hastert in 2010, and Hastert started making payments to that individual shortly thereafter.)
BuzzFeed also reported that at the request of Hastert's lawyers, the U.S. Attorney's office agreed to withhold the "explicit" details from the indictment that concerned why Hastert agreed to pay Individual A $3.5 million in hush money. But at this point, we can't stop people from jumping to conclusions.
Watch below via C-SPAN:
[Image via screenshot]
—
>> Follow Tina Nguyen (@Tina_Nguyen) on Twitter
Have a tip we should know? tips@mediaite.com