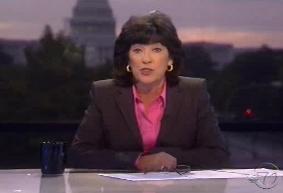 Christiane Amanpour has been ABC's This Week host for nine Sundays and she has finished second, but mostly third, among the competition in both total viewers and the A25-54 demographic.
Last Sunday, September 19, the show didn't just finish in third place, behind NBC's Meet The Press and CBS' Face The Nation – it was the lowest ratings in the A25-54 demographic in more than seven years.
NBC had 988,000 viewers in the demo, CBS 854,000 and ABC 608,000. The last time ABC had a lower rating in the demo was the August 24, 2003 show (including regular/full telecasts), near the beginning of George Stephanopoulos' reign. Year-to-year, the show was down 29% in total viewers and 38% in the demo, while it declined in both categories week-to-week as well (while NBC and CBS grew).
It's not like it had anything to do with the guests either – This Week put together arguably the best guest list last Sunday. Amanpour had a Sunday exclusive with President of Iran Mahmoud Ahmadinejad as well as an interview with Sec. Hillary Clinton. On paper, it was a strong show. But the ratings, which haven't been spectacular from the very beginning, have continued to see a decline, despite these high profile bookings.
When the show debuted third in total viewers and second in the demo August 1, Executive Producer Ian Cameron told TVNewser, "We are very pleased with the broadcast on Sunday, and we're exactly where we thought we'd be. It's been a solid start all around."
Eight weeks in, the show remains far behind the leader, MTP, and in many weeks, significantly behind second place as well (we'll know ratings for yesterday's show on Thursday). Update: In the demo, however, ABC has finished 2nd the previous seven weeks.
During Jake Tapper's guest hosting run, the show occasionally once unseated longtime first place program Meet the Press as the top Sunday program of the week in the demo. In many other weeks it came close – something Amanpour hasn't seen yet. (Tapper's This Week also had some low weeks, especially in total viewers.)
While ratings are only one indicator of a program's success, they are an important one. As Amanpour settles into her new role, the low ratings will only amplify some of the early criticism of the hiring, until success, by Nielsen standards, is visible.
—–
» Follow Steve Krakauer on Twitter
Have a tip we should know? tips@mediaite.com