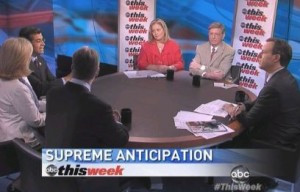 Any day now, the Supreme Court is going to issue a ruling on the constitutionality of the Affordable Care Act (a.k.a. Obamacare). The panel on ABC's This Week discussed the expected ruling and what legal precedents it may set for the future. Jake Tapper led the panel discussion that hit on the constitutionality of the insurance mandate, the potential political fallout, and just exactly what is within the powers of Congress.
RELATED: Bloomberg Poll Shows 58% Oppose Repeal Of Health Care Reform
Democratic congressman Xavier Becerra argued millions of people have already benefitted from the health care law and if the Supreme Court rejects it, people may wonder if the justices did so for overtly political motivations. Tapper noted that while most people may not necessarily favor the health care plan, they do like many of the provisions within it and asked if opposing it would be politically damaging for Republicans. Peggy Noonan said the bigger potential damage will be done to the Obama administration if the law, or even just the insurance mandate, is ruled unconstitutional.
Major Garrett pointed out that despite what anyone may say to the contrary, what the Supreme Court decision is primarily about is the commerce clause and setting precedent for its reach "for the next hundred years." He used a metaphor that Mike Bloomberg may not approve of by comparing health care to "a 32-ounce Red Bull," in that it's energized both parties for years.
George Will reminded the other panelists of Nancy Pelosi's now-infamous comments in 2009 dismissing the idea that a health insurance mandate could be found unconstitutional, and concluded from that exchange that there are a number of members of the federal government, Pelosi included, who don't understand the limits of what government can do. And this, Will said, it precisely what the health care ruling is about: the limits of what Congress can do. Hillary Rosen made it clear whatever fallout comes from the Supreme Court ruling is going to be on the Republicans' heads.
Watch the video below, courtesy of ABC:
Have a tip we should know? tips@mediaite.com
Josh Feldman - Senior Editor