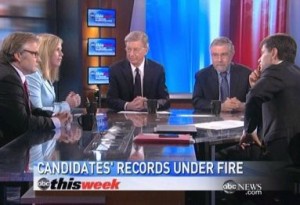 The panel on ABC's This Week engaged in a rather long discussion about the economy, its impact on the 2012 election race, and the respective economic records of both presidential candidates. And with the recent news that Mitt Romney invested in several companies as governor that ended up going bankrupt later on, George Stephanopoulos asked if Romney's situation is comparable to President Obama and the Solyndra scandal.
RELATED: Romney's Solyndra? State-Funded Massachusetts Solar Company Goes Bankrupt
Republican campaign strategist Eric Fehrnstrom argued that the loan was doled out by the administration before Romney's, and the Republican candidate's position back then was that the state government "should not be in the business of venture investing." In fact, according to Fehrnstrom, every piece of action Romney took in this arena as governor was to limit it. He contrasted that with Solyndra, which he argued exposed Obama for being hypocritical in his attacks on Bain Capital.
Democratic campaign strategist Stephanie Cutter shot back at Fehrnstrom by noting that the federal government started the program to give money to Solyndra under George W. Bush. She admitted that the loan did not work out, but argued that in the grand scheme of things, there have been many other government loans to the clean energy sector that have been more successful. She insisted that investing in these industries remains a priority for the Obama administration.
Paul Krugman pointed out that considering the trillions and trillions the United States racks up over the years, a billion dollars spent on one investment isn't necessarily something to get riled up about. And he agreed with Cutter that aside from Solyndra, the overall investment program has had a good track record. But he still had to insist that a big deal is being made over something small.
Watch the video below, courtesy of ABC:
Have a tip we should know? [email protected]
Josh Feldman - Senior Editor