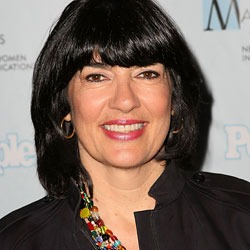 This Week's staff is reportedly concerned over the show's possible move from Washington DC to New York, apparently because the show's new host, CNN vet Christiane Amanpour, is adamant about remaining in the Big Apple, those close to the show are telling the New York Post. Amanpour currently commutes from her Manhattan apartment to DC to shoot the show, in no small part because her son is enrolled in a New York City school.
Already, Amanpour hired one of her producers at CNN to become This Week's anchor producer in New York – a decision that did not exactly sit well with the ABC show's primarily DC-based staff. ABC president Ben Sherwood is left dealing with the backlash. A recent visit to the show's DC bureau had Sherwood fielding questions from nervous staffers about whether 2011 would see the Sunday morning show moving to a new city.
Amanpour moved to New York City a little over three years ago to be closer to her husband, former U.S. State Department spokesman James Rubin, and has been quite clear since day one that she would much prefer to remain in New York City rather than move to the nation's capital.
That said, Amanpour has publicly stated that, despite her hesitation to move to DC and her previous critiques at the American media for not adequately covering international news, "the creative DNA of the show will remain. What we want to do is broaden it even more." Of course, time will only tell whether that means broadening the weekly look at the Beltway to include Broadway, too.
Have a tip we should know? tips@mediaite.com